Are you interested in installing a new aerial hoop at home or in your studio? Well, you're in the right place! This article contains a comprehensive overview of the best aerial hoops suitable for all-levels of aerialist from beginner to professional.
Aerial yoga is our passion, but we love to dabble in all forms of aerial sport, Aerial Hoop (also called Lyra Hoop) is no exception.
Many aerialists are multi-discipline and have interest in a variety of aerial sports. An aerial hoop is staple piece of aerial hardware due to its ease of getting started.
This list includes both single-point and double-point Lyra Hoops for your convenience.
Single point hoops have one connection, making them great for spins and swivel movements.
Whereas double-point hoops are connected by two tabs at the top, meaning that they spin less and are better for holding static positions without lots of spinning.
All aerial hoops are designed to be lightweight to allow you to move, swing and spin with ease!
If you've already got your indoor or outdoor aerial rigging set up and ready to go, it's now time to add your first aerial hoop!
Our Thoughts on the X Pole Single Point Hoop
The X Pole Single Point Hoop was my first ever Lyra. The same aerial hoops were installed in the studio where I went to train, as I'd become familiar with them, I decided to go for this as my first aerial hoop.
X Pole are the leading global manufacturer in pole dancing and aerial equipment, the quality is obvious with X Pole. Every piece is extremely strong and well-made. The Single Point Aerial Hoop is no different.
The main selling point is the powdered coating, this means that you can use the hoop with full length leggings instead of bare legs. Unlike pole dancing poles, this hoop does not require bare skin for grip.
The grip with the powder coating is excellent, but I prefer to wear matte (non-shiny) leggings for aerial for a bit of extra security, regardless of the material used in the hardware.
Best Aerial Hoop for Small Spaces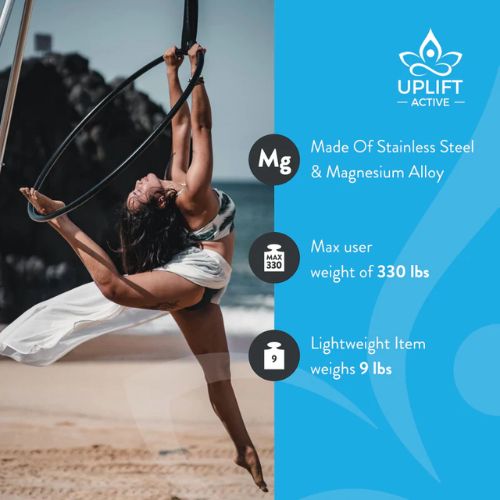 Uplift Active Aerial Hoop Lyra set
Get 10% off your Uplift Active order with the code POLEFIT10
Our Thoughts on the Uplift Active Aerial Hoop Lyra set
LOVE. This. Hoop. Mostly because there are so many options, so you can get the perfect sized Lyra without having to compromise. It's extremely lightweight (it weighs just 9lbs) so it's highly transportable too.
This hoop is perfect for families with young kids who love to swing and spin on the Lyra hoop! Uplift Active are a well-known supplier of aerial equipment with exceptional customer service.
All the rigging you'll need is included (except for the fixtures + beam) so you can unbox it and start flying immediately.
Our Thoughts on the X Pole Two Point Hoop
Double-point hoops feel quite different from the moment you sit on them. They certainly don't pick up momentum as fast as their single-point counterpart.
That's because this hoop is a bit more like a round swing (although it can rigged differently if you want it to swivel too) so it's great for performing static poses with a bit of extra stability.
This has the same standard of construction as you'd expect from X Pole products. There's a choice of diameters and the coating is exceptionally grippy.
---
More Amazing Aerial Hoops to Consider
If you still haven't found the perfect aerial hoop to get you flying, try one of these options below. We've carefully researched and tested all of these recommendations for your peace of mind.
Runner Deer Complete Lyra Aerial Hoop Kit
Hoop sizes from 800mm – 1000mm
32mm diameter only (thicker than standard lyra hoops)
Hollow stainless steel with powder coated finish
Single Point, Double Point or Tabless
Rigging included (carabiners, swivel and a 3-foot long spanset)
The Runner Deer Lyra Hoop is a great choice for home or light outdoor use.
This is a great hoop for adults, but not so great for smaller children as the bar of the hoop is thicker than standard (24mm). However, that can make it easier to grip with your legs for performing inversions.
---
Uplift Active Lightweight Stainless Steel Single Point Lyra
Hoop sizes from 800mm to 1000mm
Made of a hollow stainless steel and magnesium alloy
Single point
Lightweight – easier to manoeuvre and are less likely to cause bruises
Has diameter options of 34mm or 24.3mm
Get 10% off your Uplift Active order with the code POLEFIT10
---
Aerial Moon Lyra Hoop
Made of stainless steel
White powder coating
It's moon shaped! Looks amazing for photos on Instagram etc
Great for performing poses and shape routines
Comes with or without rigging equipment
It's MOON SHAPED. Need we say more? This is such a unique take on aerial hoop, and it opens up some amazing opportunities for photo shoots, video shoots and social media content. Creative performers will fall in love with this.
Uplift Active's Aerial Moon Lyra Hoop is manufactured to the same high standards as their other aerial gear. It's powder coated and comes with optional rigging equipment.
Now, off to sit on the spinning moon for some peaceful reflection.
Get 10% off your Uplift Active order with the code POLEFIT10
---
Firetoys Single Point Aerial Hoop in White Sparkle
Comes in sizes 890mm, 940mm and1000mm
Comes in a bright and beautiful white sparkle coating
Diameter 25mm
Made of hollow stainless steel
Comes with a protective foam cover
---
DASKING Aerial Hoop
Hoop sizes from 850mm – 900mm
Diameters: 32mm or 25mm
Hollow stainless steel with a powder coated finish
Single Point rigging
Included 3 D-ring (carabiners), a swivel, tape and a 1m span set
Carry-case included for storage and transport
This a great lyra for aerialists of all levels and for all the family. A lot of kit is included for the price, according to reviews – this is incredibly sturdy and holds up extremely well after many years of daily use.
---
Prodigy Aerial Heart – Heart shaped Aerial Hoop
Diameter of 25mm
Sparkly Red finish
Great hoop for decorative and practical performances
Suitable for dual performances
It's heart shaped!
This is a dual-point hoop (this 2nd one on this list) so that means this hoop does not swivel as much. It's perfect for double performances and this is especially great for photoshoots and special occasions!
---
Firetoys Prodigy Multi-point Aerial Hoop with Shackles
5 sizes to chose from, 840mm to 1050 (approx mm)
Powder coated matt black
This hoop can change between 1, 2 or no points using attachable shackles, giving you the benefits of all three
2x marine grade steel shackles are included
Comes with a protective foam cover
---
Bubble Aerial Hoop
Comes in 3 sizes 890mm, 940mm, 1000mm (approx)
Powder coated matt black
Single Point
The loop allows two handed grip at the very top of the hoop, for centrally held poses and moves
Made of hollow stainless steel
---
What to Consider before Buying an Aerial Hoop
Here are some tips to consider before hitting that 'add to cart' button…
Aerial Hoop Safety for Beginners
Safety always comes first. After all, Lyra Hoop is not your typical workout apparatus. You're using it to support your weight and contort your body into poses while being suspended from the ceiling.
Always make sure that you have suitable space before purchasing an aerial hoop. You should have plenty of floor space around the area where the hoop will be installed. If there's furniture or other obstacles in the way, move them first.
You should also consider investing in a foldable crash mat for extra safety, especially if your space has hard floors with added risk of injury if you were to fall.
If you're new to aerial hoop, you should get some tutorials from a suitably experienced instructor before attempting any new pose or trick. You may think you'll be able to teach yourself, but it's so easy to pick up bad form if you do that.
It also helps to have a friend or workout partner to act as your 'spotter' to assist you with learning new tricks safely.
Injuries can set you back months or even years – don't take the risk!
Single vs. Double Point Hoops
Single point hoops are generally more common that double-point hoops. As the name suggests, a single hoop has one connection at the top and a double hoop has 2.
Single point hoops gain momentum and spin quickly, whereas double point hoops do not spin as fast allowing for more static poses and positions.
However, you can rig a double-point hoop to gain more momentum to spin faster, but it won't spin as fast as a single-point lyra hoop.
Is Aerial Hoop and Lyra Hoop the Same Thing?
Yes, aerial hoop's official name is Lyra Hoop which is derived from a Latin word – 'lyre'. This was a round music instrument (like a hoop!) that was played using strings like a harp.
What Diameter Should an Aerial Hoop Be?
24mm is the standard size for professional aerial hoops. When tape is added, the actual diameter may be 25-27mm.
34mm hoops are suitable for athletic use too, but many people find them a bit too thick to use comfortably.
See also: Tape for Aerial Hoop: What you need to know
How Wide Should my Aerial Hoop Be?
It really depends on how tall you are! You should measure yourself before purchasing a Lyra hoop to ensure you get the correct size.
Sit upright then measure from the top of your head to the top of the chair seat.
Then add 2″ (5cm).
This will be the best size LYRA/Aerial Hoop for you!
Is Lyra Hoop suitable for children?
Yes, Lyra Hoop is perfectly suitable for children as it closely resembles traditional gymnastic equipment. However, children should always be supervised while using the hoop to avoid accident or injury.
Children can be fearless so please keep a close watch over them.
Kids love aerial hoop! It's so much fun!
Rigging Equipment for Aerial Hoop
All aerial equipment, including hoops, need a strong support beam to suspend from. This could be a steel i-beam, a wooden or metal frame, a permanently affixed bar or ceiling hooks attached to a beam.
There are a lot of options for hanging your aerial hoop. If you have the space, installing a freestanding aerial rig is a great option as it can be repositioned and moved easily without needing any permanent hardware.
See Also: X Pole A-Frame Review: The Best Freestanding Aerial Rig
Ceiling Height & Head Clearance
If you're using your aerial hoop indoors or using a frame, you need to ensure you have enough vertical height for your stature and for the poses you wish you perform on the hoop.
Always measure your ceiling height if you're using the hoop indoors!
While sitting on the hoop, you should not have to duck your head out of the way of the top beam. Also, while suspended from the hoop, you should have plenty of clearance between your head and floor.
If you're using a crash mat (and you should be!) then this reduces the clearance you'll have, so make sure you factor this in when you're measuring for your new aerial hoop.
Best Aerial Hoops / Lyra Hoop Conclusion
As you'll soon find out, aerial hoop is an extremely accessible piece of apparatus that anybody of any age can use!
Installing your own aerial hoop does not need to be complicated, most hoops are shipped with most of the rigging bits and pieces you need. Read our guide to aerial rigging if you need more information on installation.
When choosing you're new aerial hoop, make sure you read all the reviews to ensure you're getting quality product. Budget aerial equipment is never worth it when you think that this piece of metal is supporting you suspended off the ground!
If you've fallen in love with aerial (lyra) hoop then check out our picks of aerial yoga hammocks for added health benefits and to maximize your rigging!
This article is tagged with: