Finding the best Yoga Trapeze or Aerial Yoga Stand is a big decision. You'll be relying on this freestanding aerial rig to fully support your weight while you fly around practising aerial yoga, or any other aerial discipline. This article compares the best multi-discipline freestanding aerial rigs that are for sale at the moment.
There's a lot to think about before buying a Yoga Trapeze stand, you'll need to make sure that you have enough space available and whether you're planning to use the apparatus indoors or outdoors.
The reason many aerial yoga enthusiasts opt for a frame or freestanding aerial rig is so that they can take the rig to perform aerial tricks outside. Some users also use them indoors if they have a room that's large enough!
Most of the Yoga Trapeze stands on this list can also be used for other aerial disciplines, such as Lyra Hoops, low silks and you can even use the apparatus as a pull-up/chin-up bar.
What is a Yoga Trapeze Stand?
A Yoga Trapeze stand is a freestanding frame which supports aerial equipment, such as a yoga swing. They're usually made of high quality, durable magnesium alloy, aluminum or stainless steel, making them perfectly suited for aerial sports.
Yoga Trapeze stands are for people who practice aerial sports. Some aerialists purchase a stand straight away, whereas others opt to use door frames or suspension hooks, because Yoga Trapeze stands are more expensive than these options.
However, Yoga Trapeze stands and freestanding aerial rigging is more popular than ever, so let's compare the most popular brands of the moment…
Best Yoga Trapeze Stands
Here are our top picks for the best Aerial Yoga Trapeze stands for sale at the moment:
Yoga Trapeze Stands Comparison Table
Here is a comparison table of the best Yoga Trapeze stands/freestanding aerial rigs available at the moment. A more detailed description of each stand is beneath the table.
Let's see which one of these stands is the right one for you!
Now, let's have a look at these different Yoga Trapeze stands in more detail:
1. YOGABODY Yoga Trapeze ® Stand
YOGABODY are a manufacturer dedicated to creating aerial yoga swings and related products. There are one of the most well-known brands out there for aerial yoga equipment. Their products are extremely durable and high-quality, and this Yoga Trapeze Stand is absolutely no exception.
This is created with aerial yoga in mind, but it is a multi-discipline freestanding aerial rig, you can also use it for Lyra Hoop, static trapeze or low-hanging silks. It's perfect for practising aerial yoga.
YOGABODY Yoga Trapeze ® Stand Features
Can be used indoors or outdoors
Dimensions are essentially 3 meters cubed (3x3x3) so 9.8 ft (3 meters) wide x 9.8 ft (3 meters) deep x 9.8 ft (3 meters) tall. It is not height-adjustable.
Can be stored in multiple storage bags (not included)
Multi-discipline – suitable for use with silks, trapeze (static) hammock and hoop
Not suitable for any swinging discipline such as flying trapeze
Maximum 300kg/600 lbs weight limit
Extremely sturdy and strong frame
Comes with a one year manufacturer's warranty for peace of mind
Easy to set up and install – takes 2 people approximately 5 minutes to set up (see the video below for instructions)
---
2. X Pole Aerial 'A' Frame
X Pole is a very well-known company who originally made pole dancing poles for pole dance fitness. They've now expanded their product range to include an innovative 'A' Frame, which is suitable for aerial yoga, aerial hoop (Lyra hoop) and low aerial silks. It is a freestanding frame, which means that you can use it without the need for ceiling fixtures, both indoors and outdoors.
The X Pole A-Frame is their brand new freestanding aerial rig. If you're wanting to practice aerial yoga at home, but don't want to fix permanent fixtures to your ceiling, then a freestanding aerial rig is your best option.
This is a is a multi-discipline Yoga Trapeze stand, you can also use it for Lyra Hoop, static trapeze or low-hanging silks. It's also perfect for aerial yoga.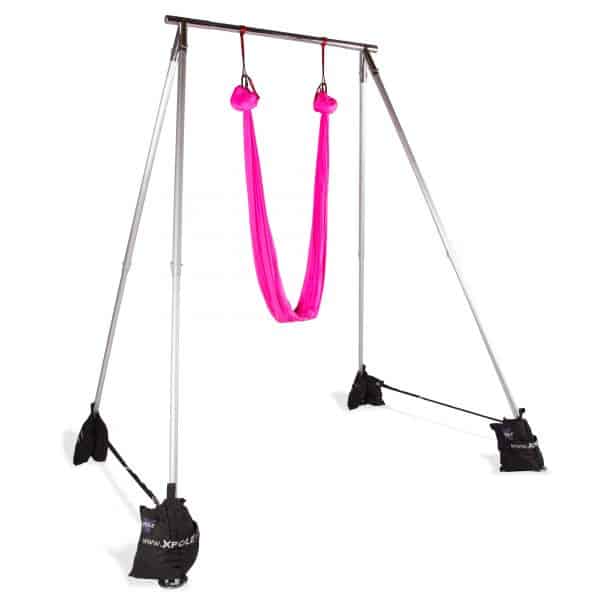 Image from X Pole USA
X Pole A-Frame Features
These are the main features of the X Pole A-Frame:
Can be used indoors or outdoors
Adjustable/Multiple Heights – (from 2450mm (8ft) up to 3480mm (11.42ft – using innovative telescopic/expandable legs
Quick and easy to assemble
Can be stored in multiple storage bags included with the frame
Multi-discipline – suitable for use with silks, trapeze (static) hammock and hoop (all sold separately by X Pole)
Not suitable for any swinging discipline such as flying trapeze
Portability – Lightweight frame allows you to use it anywhere
Maximum 150 kg/330 lbs weight limit
Optional sandbags to use at the base (sand is not included)
X Pole deliver excellent customer service when it comes to replacement parts
Versatile and easy to use; see the video below
---
3. KT Indoor/Outdoor Yoga Trapeze Stand
This is an innovative, unique and versatile piece of aerial equipment to have at home. It's extremely easy to set up and start using right away and it's also incredibly versatile. You can use this in almost any indoor or outdoor space, the handy height-adjustable top bar even makes it suitable for houses with very low ceilings.
This is a is a multi-discipline Yoga Trapeze stand, you can also use it for Lyra Hoop, static trapeze or low-hanging silks. It's also perfect for aerial yoga.
If you're on a budget but want a high quality, durable aerial frame and you don't care about brand names, then this is the stand for you!
KT Indoor/Outdoor Yoga Trapeze Stand Features
Can be used indoors or outdoors
Height adjustable from 5.9'' – 8.1'' (1.80m – 2. 56m)
It's high enough to comfortably use an aerial yoga swing but also low enough to use indoors in most homes
Highly portable and easily transportable – folds away in a matter of seconds after use
Had a maximum load of 660 lbs (300 kgs)
Extremely sturdy and strong frame made from alloy steel
Multi-discipline – suitable for use with silks, trapeze (static) hammock and hoop
Folds away for storage
---
4. Omni Stand for Yoga Swings
This is the only stand on this list with 2 height options, rather than being adjustable between the two. You must choose either 7'11" or 8'2″. OmniGym is a company who specializes in Yoga equipment, freestanding aerial rigs and other alternative fitness equipment. With OmniGym, you get extremely high-quality products and excellent customer service.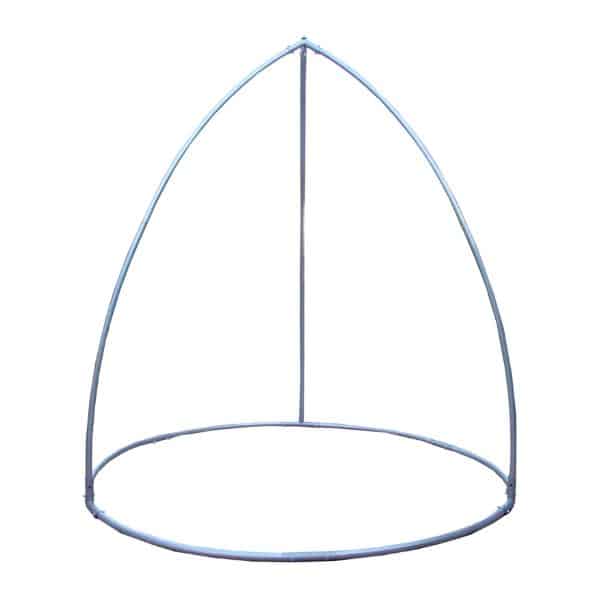 Omni Stand Features
Exclusive Patented Design – developed by Anthony Cardenas, a qualified physical therapist. This stand is designed to maximize the functionality of your yoga swing without compromising on safety
360° spin – a built-in swivel device allows easy 360-degree spins
Can be used indoors – choose the 7'11" option if you want to use your stand indoors so it will fit easily beneath your ceiling
Available in a choice of 2 colors –  silver or black
Easy to set up and use – it takes just one person to assemble or disassemble the stand in about 10 minutes
Handlebars – Contains three sets of snap-in handlebars with hand grips for extra stretching and crunching maneuvers
Extremely durable – made out of industry standard aluminum alloy
9 built-in 'O' rings – built in into the vertical poles at multiple different heights provide alternative attachment points to attach multiple accessories
Detailed Instructions provided – After purchase, Omni Gym will email you all the necessary setup instructions and information about the stand
---
5. Prior Outdoor Co. Aerial Fitness Rig
This is an extremely high-quality aerial fitness rig, it's one of the most sturdy options on this list. It's incredibly versatile and can be used at a whopping 12 ft – making it ideal for outdoor use.
This is one of the pricier Yoga Trapeze stands, but it's incredibly well-made and well-engineered so you do get excellent value for your money. This rig is made from stainless steel and will last forever!
Prior Outdoor Co. Aerial Fitness Rig Features
Height adjustable from 3.3 feet (1m) up to 11.2 feet (3.4m) and is fully adjustable with different heights every 4-6 inches in-between
Assembled using telescopic poles
Adjustable width at the top bar from 12 feet (4m), and the lowest setting is 6 feet (2m)
Extremely sturdy and strong frame made from magnesium alloy and stainless steel
Multi-discipline – suitable for use with silks, trapeze (static) hammock and hoop
Maximum weight limit 440 lbs (220 kgs)
---
6. FlagHouse Portable Swing Frame Set
Flaghouse is a manufacturer of various different sports equipment, including this swing frameset which can be used as a Yoga Trapeze stand. This frame is not as strong as the other frames on this list, as it has a maximum load capacity of 200lbs.
It does, however, completely fold away so it's a great choice for casual aerialists, for those who don't use a yoga swing very often.
FlagHouse Portable Swing Frame Set Features
Made from durable galvanized steel

Dimensions: 83'W x 7″D x 77″H

This portable swing frame can be used either indoors or outdoors

The frame has a wide, stable base
Frame completely folds away for easy storage

Not height adjustable

Maximum weight capacity: 200 lbs.

Not designed to be kept up for long periods of time or as a permanent structure
---
Alternative Options for your Yoga Swing
If you don't have the budget or space required for a freestanding Yoga Trapeze stand, then you'll be pleased to know that there are loads of other options available! Using a Yoga Trapeze stand is one of the most expensive and advanced ways to perform aerial yoga, Lyra hoop, etc.
Door Frame Bar
This is by far the simplest, quickest, cheapest, and most common way to hang a yoga swing at home.
DreamGYM Doorway Pull-up Bar – Chin-up Bar – Swing Support Bar
You don't need to be a handyman or expert carpenter to install this doorway dar, it takes just ten minutes. It can easily support your yoga swing or hammock and is much cheaper than investing in a large frame. This also doubles as a pull-up bar!
Requirements: wooden door frame that's at least 4.5 inches/12 cm deep
Width range: 26 inches/66 cm – 36 inches/91 cm
---
Suspension Hooks
Another easy and affordable way to hang a yoga swing is to use solid metal hooks attached to a beam in the ceiling. This makes it a very strong way to hand your aerial yoga swing.
See the Top 5 Aerial Yoga Ceiling Suspension Hooks
Aisto Heavy Duty Swing Hangers 2000 LB Capacity 360 Swivel Stainless Steel Swing Hardware
This set of heavy duty ceiling suspension hooks include the two main brackets which can hold up to 2000 lbs. They also include a pair of carabiners to attach your aerial yoga hammock easily.
They need to be screwed into a wooden beam, which does require some handy work but is a long-term solution to being able to enjoy the health benefits of aerial yoga for years to come.
Requirements: wooden beam
Weight limit: 2000 lbs
---
Exposed Beams
If you have exposed beams with the ability to hook something over them, then you don't need any rigging equipment at all! You simply use the daisy chain straps included with most aerial swings, add a few carabiners, rigging plates or swivels and you're good to go!
Having exposed beams in your house is an aerialists dream, or even better if you have i-beams! You can always hang your yoga swing from a tree…
---
Yoga Trapeze Stands Buying Tips
Here are some further tips for you to consider when buying a new Yoga Trapeze stand to use with your aerial yoga swing or other aerial equipment.
Available Height & Space
If you're planning to use the stand indoors, make sure you know how tall your ceilings are so it will comfortably fit in your room. Also, think about how much height you will need in order to safely perform inversions. You don't want to be hitting your head on the floor!
Portability
Consider whether you'll be using the yoga stand at home, or if you'll be transporting it about. Does it fold away easily? Will it fit in your trunk? You need to think about these things when shopping for Yoga Trapeze stands.
Weight Capacity
This depends on how you're planning to use the stand, for regular home workout use then it doesn't matter so much. However, if you're planning any doubles poses or commercial use then you will want a stand that can withstand greater loads.
Warranty
Always check if your new freestanding aerial rig comes with a warranty, this means if any parts become faulty then they will be replaced or repaired free of charge. Remember, this isn't just regular gym equipment, you're trusting this rigging to support your body weight while you fly!
---
Why use Yoga Trapeze Stands?
There are so many health benefits to aerial yoga. Because you're suspended instead of grounded, you get the benefits of both yoga and inversion therapy in one complete package.
Health Benefits of Aerial Yoga
By practising aerial yoga, you will enjoy some of these health benefits:
Increased flexibility
Better core strength
Stronger joints
Fewer aches and pains
Better posture
Reduced stress and anxiety
More refreshing sleep
Better blood flow and circulation
Higher levels of blood oxygen absorption
Better upper body strength
Read more: Health Benefits of Aerial Yoga
Many aerialists choose Yoga Trapeze stands over fixed aerial hardware rigging or suspension hooks for many reasons.
If you Rent your Home
If you're an aerialist who rents their home, you may not be allowed to affix suspension hooks or door frame equipment. So, you should choose a stand to allow for minimum damage and because it's easy to take down and store away,
You Need a Portable Solution
Yoga Trapeze frames are excellent if you want a portable rig to perform aerial yoga anywhere! There's the beach, the park, the street… so many different possibilities are open to you if you own a portable rig.
However, it's not as simple as slinging it over your shoulder and carrying it around. These rigs often weight over 75 lbs (32 kg) so they're not really that easy to carry!
Stands with Multiple Uses
Many of these freestanding Yoga Trapeze stands can also double as other equipment, such as children's swing sets, porch swing holders or punching bag hangers. Due to their versatility, these portable rigs are a must-have for any home gym enthusiast.
---
Pin this Article
Use the image below to pin this guide and save it for later reference!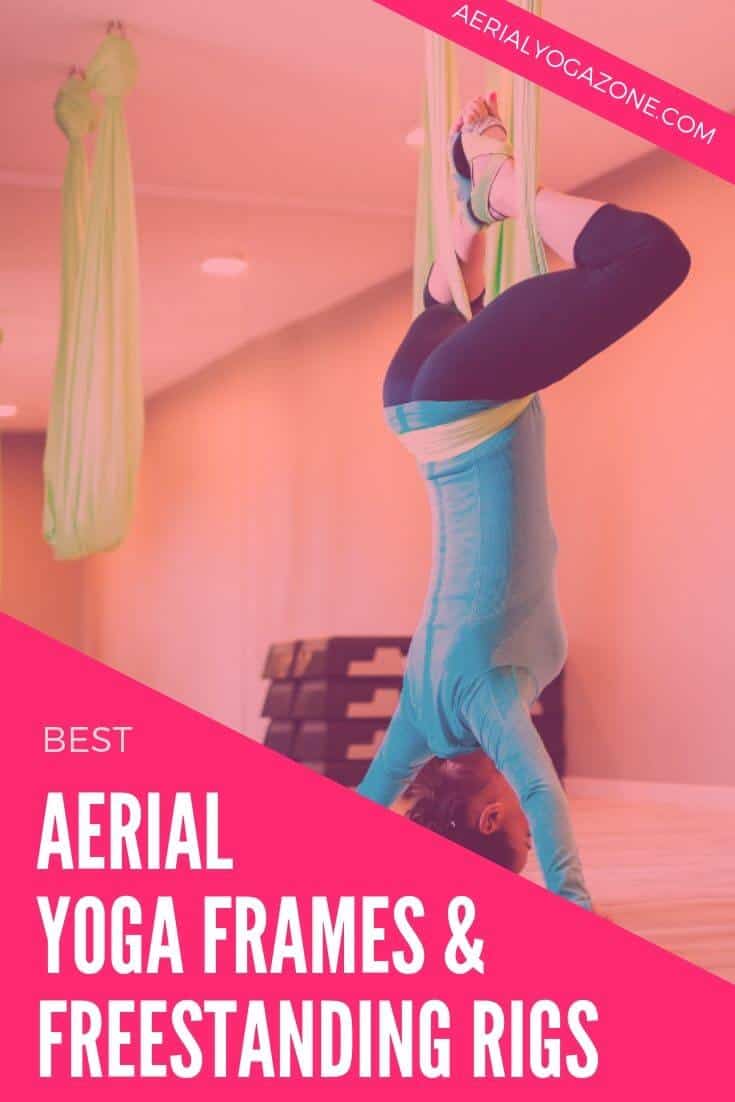 ---
This post contains affiliate links. That means that, at no extra cost to you, we may receive a small commission if you buy a product using one of the links on this page. Read our full disclosure here.
This article is tagged with: