Are you considering getting yourself a new 10m Aerial Yoga Hammock to practice aerial yoga at home with a bit of extra height that a 10m swing provides? This review will help you decide whether this yoga swing is right for you. Remember, you'll be trusting this hammock to support your entire body weight while you hang upside down from it. Buying aerial equipment takes a little more thought than buying regular gym equipment!
This hammock by Vertical Wise is an excellent choice for someone looking for a high-quality yoga hammock with a bit of extra height that a 10-meter swing can provide. These 10m long silks are Vertical Wise's own aerial silks that have been designed to be hung as hammocks for use in aerial yoga, which means they do not have padded handles like other brands of yoga swings.
This review will help you decide whether the Vertical Wise 10m Aerial Yoga Hammock is the one for you!
About the Vertical Wise 10m Aerial Yoga Hammock
This 10m Aerial Yoga Hammock is a professionally designed aerial yoga hammock by the company Vertical Wise.
Vertical Wise is the only international and multilingual website with a purpose is to bring together the community of pole fitness and aerial professionals, hobbyists, students, studio owners and aerial enthusiasts. They sell everything from clothes, to dance poles, to professional equipment and accessories.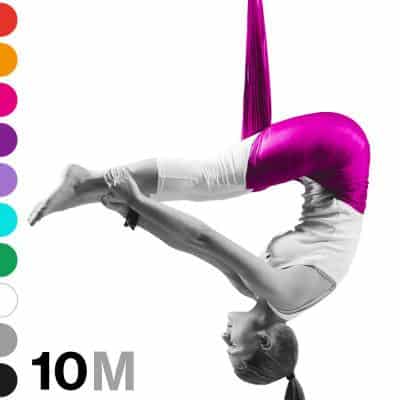 Image from Vertical Wise
Features
Here's an overview of its main features:
Professional design. The professionally designed, vibrant colors of the shimmery, parachute and studio-quality fabric makes it perfect for both home and professional use.
10 Meter length. These longer hammocks allow you to do higher moves and can even allow you to perform aerial silk style rolls and short wraps and drops, as well as giving you more options for adjusting your hammock height according to your space.  This 10m length also means that you can adjust the knots to lower heights if needed, to suit any ceiling. Shorter Lengths are also available.
Give & Stretch. These Vertical Wise Aerial Yoga Hammocks have a small amount of stretch (about 10% of their total length), which means that the swing will support you across your waist and under the arms, with a cushioned effect.
Use indoors or outdoors. This hammock is suitable for both indoor or outdoor use.
Health benefits. The health benefits of using a yoga swing, such as this 10m Aerial Yoga Hammock are wide and varied. It can be used for inversion therapy, spinal decompression and to relieve aches and pains.
Load capacity. Its capacity is 379lbs (172kg), it was load-tested in the United Kingdom. Do not exceed the maximum weight.
Quick & easy installation. It can be easily attached to your existing aerial rigging, ceiling suspension hooks or door frame. Aerial hardware is not included with the swing. It should be attached to stainless steel 'O' rings, meaning you can use this hammock as either a 1 or 2 point hammock.
Choice of colors. It has plenty of colors to choose from, including:
Green
Pink
Purple
White
Black
Red
Lavender
Orange
Turquoise
How to Install and use
Once you receive the 10m Aerial Yoga Hammock, you will need to attach it to your ceiling hooks, bar, or aerial rigging.
Advantages
The advantages of buying the 10m Aerial Yoga Hammock from Vertical Wise are:
Quality
This is a very high quality, durable and professional yoga swing. It's made from the best parachute-grade fabric that's been carefully stitched to comfortable support you during aerial yoga inversions.
Easy to Install
As you can see from the image above, it's very easy to install with the correct knot. It fits onto an aerial sports frame or rigging, ceiling hammock hooks or a door frame. You can install it yourself without any assistance, you may need a ladder depending on the height of your ceilings!
Comfort
Despite it lacking foam handles, this 10m Aerial Yoga Hammock is comfortable to use and perform tricks/inversions with. Due to its amount of stretch, it does make for a comfortable experience.
Value for Money
This is great value for such an aerial hammock with such long length to play with, making it versatile and suitable for many different environments.
Disadvantages
All products have disadvantages, but there aren't many this time! But, for the sake of fairness, we should highlight a few negatives here.
No Handles
If you're new to aerial yoga, you may prefer to start with a yoga hammock that comes with handles, such as the UpCircleSeven Yoga Swing. This fabric-only swing is designed for aerialists who have some experience with using aerial silks without handles, so are more familiar with this type of grip.
Silks Re-Purposed
This 10m Aerial Yoga Hammock is a re-purposed set of aerial silks, while this may be a benefit for more experienced aerialists, it's less-suitable for beginners to become familiar with aerial yoga without the use of handles.
Conclusion
If you're an experienced aerialist who wants to up their aerial yoga game, or if you want a hammock that serves a dual purpose (having the ability to perform aerial wraps and rolls)
Where to Buy
---
Read more aerial yoga reviews here.
This post contains affiliate links. That means that, at no extra cost to you, we may receive a small commission if you buy a product using one of the links on this page. Read our full disclosure here.
Vertical Wise 10m Aerial Yoga Hammock
Pros
Extra 10 meter height allows for extra versatility, as can be adjusted for different ceilings and spaces.,
Long enough to perform more advanced wraps and rolls
Extremely versatile: can easily connect to existing aerial hardware, as either a 1 or 2 point hammock
Can also be used as aerial silks, using the correct knots and hardware
Cons
No foam padded handles for comfort grips
Not the best option for absolute beginners
This article is tagged with: