Welcome! We're a very welcoming and non-judgemental community. We welcome newcomers with open arms. If you're new to aerial yoga, you probably have hundreds of questions. But that's OK!
We've put together this handy guide full of frequently asked questions by other newcomers, like yourself!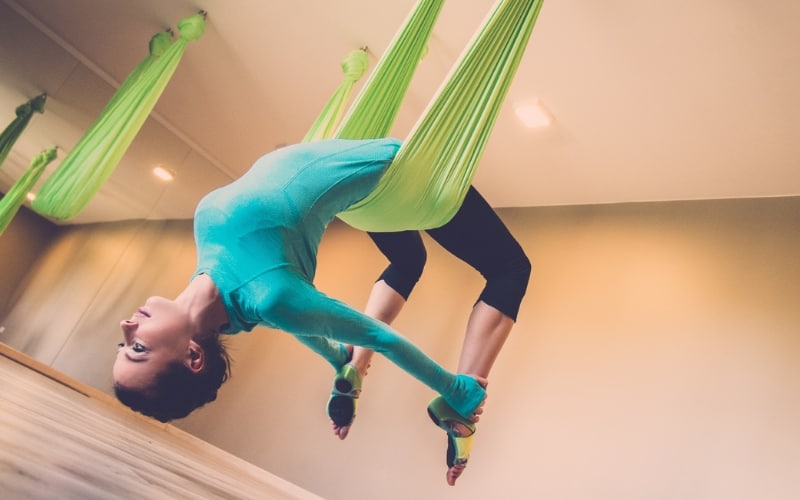 ---
Yoga Swing / Yoga Hammock
A yoga swing (also called a yoga hammock) is a modified set of aerial silks (think Cirque de Soleil!) that's designed to be suspended from the ceiling.
It's a fairly basic concept, but you have several buying options. You can choose sizes, colors, whether you want support handles or not. There are lots for you to think about before choosing your yoga swing!
Image from Amazon
See the Best Aerial Yoga Hammocks here
Door Frame Bar
A door frame bar is the quicker, easiest and cheapest way to hang an aerial yoga swing at home. It takes less than 10 minutes to install and can easily hang your new yoga swing safely. As a bonus, they double as a pull-up/chin-up bar too!
Image from Amazon
Learn more about Door Frame Bars
Suspension Hooks/Rigging
Another easy and affordable way to hang a yoga swing is to use solid metal hooks attached to a beam in the ceiling. This makes it a very strong way to hand your aerial yoga swing.
Freestanding Aerial Rig
If you want a sturdy solution for hanging your aerial yoga swing anywhere, then a freestanding rig is a large 'A' frame (similar to the frame of a child's swing set) that supports the weight of the hammock.
Freestanding rigs are great because they're often height adjustable, can be used indoors or outdoors, and are multi-discipline. That means that you can also use them for Lyra Hoop, Low-silks and even static trapeze!
Image from Amazon
See the best Freestanding Aerial Rigs here
---
For aerial yoga, you need to wear form-fitting clothes. With regular yoga, you can get away with loose tops or wide bottomed yoga pants but loosely-fitted clothes will get in your way and may become tangled in the yoga swing!
During an aerial yoga class, you'll be more comfortable wearing fitted clothes, even if you don't normally wear form-fitting clothes in your day-to-day life.
Leggings/Meggings
Ankle-length leggings are the best because they cover your skin to avoid friction burns. Meggings are leggings, but designed for men to keep their junk covered and protected!
Sports Bra
For women, you'll be grateful for a sports bra keeping everything in place while you're upside down!
Headband
If you have long hair, it's essential that you tie it up out of the way. The last thing you want is your hair caught in the swing – ouch! You may also want a headband to keep your bangs out of your eyes too.
Form-Fitting Top
Any form-fitting top will do, avoid loose tees as they will fall over your face while you're performing upside down poses!
Yoga Socks / Shoes
Yoga socks usually have little rubber grip pads on the bottom, so they're highly useful for aerial yoga. They will help you grip the fabric of the swing, giving you extra security and comfort. Bare skin against the fabric can cause extra friction, whereas shiny fabric makes it harder to grip.
---
Where do I buy Aerial Yoga Gear?
Due to aerial yoga's increase in popularity, loads of online retailers sell aerial yoga equipment, accessories, clothing and more.
Here are the best places to buy aerial yoga equipment at the moment:
Best Aerial Yoga Equipment
Amazon – Amazon has a wide range of aerial yoga swings, stands, hammocks, accessories, clothing and loads more. If you have Amazon Prime, then you'll get next-day delivery on most of these items too! You can't go wrong with Amazon.
Uplift Active – Uplift Active is a worldwide international website that will ship your order globally. They sell everything from freestanding frames and rigs, door-frame bars, fabrics, to spare parts and accessories.
Vertical Wise – Vertical Wise sell a huge range of aerial yoga and other associated products. They only ship to the UK and within Europe at the moment.
YOGABODY – YOGABODY sells aerial yoga equipment and other accessories at great prices.
The Great Yoga Wall, Inc. – The Great Yoga Wall is a website selling unique yoga hardware that can transform any spare wall in your home or studio into an innovative yoga fitness wall.
X Pole – X Pole are the original innovators in pole and aerial fitness. Starting with at-home dance poles made to a professional standard, they have now branched out into some of the best aerial equipment available.
Get 10% off Aerial Yoga Clothing & Equipment with Uplift Active

Use the discount code POLEFIT10 at the checkout
---
Pin this Page
This post contains affiliate links. That means that, at no extra cost to you, we may receive a small commission if you buy a product using one of the links on this page. Read our full disclosure here.