Welcome to Aerial Yoga Zone! We're here to teach you about the benefits of aerial yoga and everything you need to know about the equipment, safety, and more so that you can practice this unique sport at home.
What is Aerial Yoga?
Aerial Yoga is the practice of performing poses and inversions using a hammock or swing that's suspended from the ceiling or from an aerial frame/truss. It actually has many different names, depending on where you live. So, you may also find aerial yoga is referred to as:
Anti-gravity yoga
Zero-gravity yoga
Upside-down yoga
Circus yoga
Air yoga
Yoga Trapeze
Flying yoga
Inversion therapy
Spinal decompression technique
All of these names usually refer to the same thing, which we call Aerial Yoga.
At first, aerial yoga looks like it's something very difficult that takes a lot of skill and practice to perform. Unlike other forms of aerial sport, this is not the case with aerial yoga. In fact, aerial yoga hammocks/swings actually make it easier for you to perform yoga poses that you may otherwise find difficult.
Many first-timers at an aerial yoga class are surprised at how simple it is and how safe it feels to be well-supported by a strong, soft trapeze swing. Also, the wonderful sensation of hanging upside down, the head rush, the sense of thrill combined with achievement that you don't get with other forms of exercise.
It is not reserved for the skinny, athletic, flexible amongst us, it is a sport that's suitable for everybody. It doesn't matter what your current fitness level is, aerial yoga is for all levels of fitness.
What are the Benefits?
Aerial Yoga is a unique exercise that has elements of cardio, strength and flexibility training. This means that you get a full-body workout in one session. There are so many other benefits to aerial exercise, including:
Increased cognitive abilities
Improved spinal health
Improved lung function
Promotes digestive health
Increased flexibility
Stronger muscles
Improved blood circulation
Ease general aches and pains
How to Practice Aerial Yoga at Home
If you're interested in learning Aerial Yoga, your first port of call will probably be a local class. Due to the rise in popularity of sports such as aerial yoga, more and more classes are opening up all around the world. Your local gym or yoga studio is probably offering aerial yoga classes.
But, what if classes are not convenient for you? What if you want to level-up your aerial yoga game by practicing and working out at home? Fitness classes aren't for everyone, sometimes they're at the wrong time, in a place that's difficult to get to, or life just gets in the way. If you workout at home, you've only got yourself to blame!
Being able to workout at home gives you the ultimate flexibility to create your perfect workout regime that fits around your current lifestyle.
Aerial Yoga Equipment
With the rise in popularity of aerial yoga and aerial fitness in general, more brands are manufacturing high-quality aerial yoga equipment that can be used at home. And, most importantly, aerial yoga equipment is super easy to install and extremely safe when used correctly!
When it comes to the equipment you'll use when practicing aerial yoga, it's very simple. You have:
Rigging – an exposed beam or door-frame bar. Alternatively, a freestanding aerial frame with extendable legs that you will hang the hammock, swing or silks from.
Yoga swing / Yoga hammock – the actual fabric that you will use to perform inversions and tricks
Connectors/accessories – this is what you use to attach the hammock or swing to the rig itself, there are various types of connectors, carabiners, rotational connectors, static connectors and more
If you want to practice Aerial Yoga at home, you'll definitely want to invest in high-quality equipment because you'll be trusting it to support you when you're hanging from the ceiling!
Door-Frame Bar for Yoga Swings
This is the simplest, quickest, and most common way to hang a yoga swing at home. There are plenty of options available for you:
Ascent Fitness Pull Up Bar
This door frame bar was designed with aerial yoga in mind. You don't need to be a handyman or expert carpenter to install this, it takes just ten minutes. It can easily support your yoga swing or hammock and is much cheaper than investing in a large frame. This also doubles as a pull-up bar!
Requirements: wooden door frame that's at least 4.5 inches/12 cm deep
Width range: 26 inches/66 cm – 39 inches/99 cm
---
Suspension Hooks and Rigging
Another quick, simple and affordable way to hang a yoga swing is to use solid metal hooks attached to a beam in the ceiling. This makes it a very strong way to hand your aerial yoga swing.
Yoga Trapeze Ceiling Hooks

by YogaBody

This set of ceiling suspension hooks include the two main brackets which can hold up to 300 lbs. They also include a pair of carabiners to attach your aerial yoga hammock easily.

YOGABODY are well known within the aerial industry for creating robust equipment, these ceiling hooks are an excellent addition if you have permanent fixtures for aerial sports at your home or gym.
Requirements: wooden beam
Weight limit: 300 lbs / 140 kg
---
Freestanding Aerial Rigs and Frames
Freestanding aerial rigs are the most popular choice for practicing aerial yoga at home. This is because they're completely portable and don't require you to drill into a ceiling beam. They can also be used both indoors and outdoors, most of them are adjustable in height for maximum accessibility.
Get 10% off Aerial Yoga Clothing & Equipment with Uplift Active

Use the discount code POLEFIT10 at the checkout
Here is an overview of the most popular freestanding aerial rigs available at the moment:
X Pole A-Frame
X Pole is a company who originally made poles for pole dance fitness. They've now expanded their product range to include an innovative 'A' Frame, suitable for aerial yoga (and other aerial disciplines). It is a freestanding frame, which means that you can use it without the need for ceiling fixtures. It can be used with an aerial hoop, static trapeze, aerial hammocks and low silks.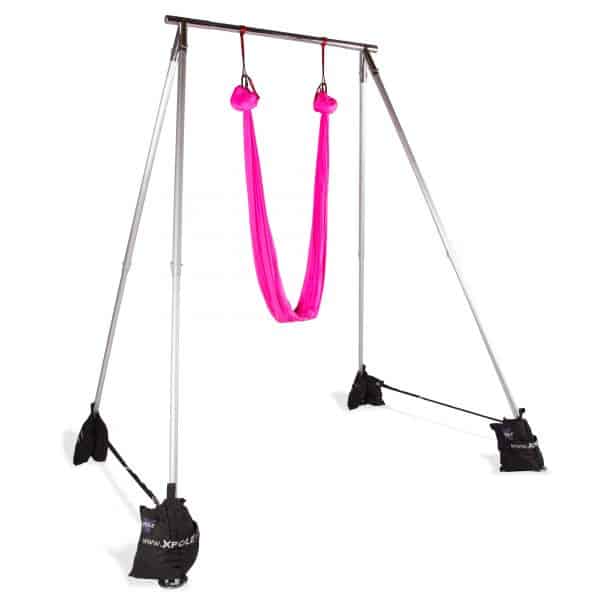 Height: adjustable from 2450mm (8ft) up to 3480mm (11.42ft) using telescopic legs
Maximum Weight: 150kg/330 lbs weight limit
Product Rating: 85/100 (Read the full review here)
---
YOGABODY Yoga Trapeze® Stand
YOGABODY is a manufacturer dedicated to creating aerial yoga swings and related products. There are one of the most well-known brands out there for aerial yoga equipment. Their products are extremely durable and high-quality, and this Yoga Trapeze® Stand is absolutely no exception.
This is created with aerial yoga in mind, but it is a multi-discipline freestanding aerial rig, you can also use it for Lyra Hoop, static trapeze or low-hanging silks. It's perfect for practicing aerial yoga.
Maximum Weight: 600lbs / 272kg
Height: 9'8″ / 2.9 m (non-adjustable)
---
Height Adjustable Aerial Fitness Rig
This Aerial Rig is designed for Aerial Fitness, Aerial Yoga, Aerial Hoop, and Low Silks. It's a low-cost and easy way to practice Aerial Yoga anywhere, and super simple to set up and take down!
This freestanding aerial rig is suitable for indoor and outdoor use, it uses telescopic (expandable) poles and everything you need to install it is included in the box, so there's no need for extra tools.
Height: adjustable from 2-4 meters
Maximum Weight: 600kg/1300 lbs weight limit but recommended 200lbs…
---
Yoga Swings & Hammocks
There are currently loads of different yoga hammocks available, and many of them are made out of different types of materials so you have a choice.
High-quality yoga swings are made from parachute-grade nylon and can hold a hell of a lot of weight, the amount of material you buy depends on the height you have available, it's better to have too much material than not enough.
YOGABODY Yoga Trapeze® Swing
This popular aerial yoga swing with foam handles can be set up in a matter of minutes and comes with a free DVD to get you started. It also comes with a 10-year guarantee, so you can use this swing with confidence. It's slightly more expensive than other swings, but it's been stress-tested to up-to 600lbs (270kgs) so it's by far one of the stronger swings offered on the market at the moment.
As a result, you'll find YOGABODY Yoga Trapeze® Yoga Swings in gyms and yoga studios all around the world!
Maximum Weight: 272kg / 600lbs
Product rating: 92/100 (Read our full review)
---
UpCircleSeven Aerial Yoga Swing
This is a large aerial yoga swing with large, thick-padded foam handles for your comfort. It consists of a spacious triple-stitched seat. This, when paired with the handles gives you a premium experience when performing aerial tricks.
Maximum Weight: 90kg / 200lbs 
Product rating: 82/100 (Read our full review)
---
Vertical Wise 10m Aerial Yoga Hammock
This yoga hammock is made from a set of specially designed, multi-purpose aerial silks. They're available in a choice of 9 colors and can be connected to your existing aerial rigging. You can also choose from single or double-point connections to suit your workout style.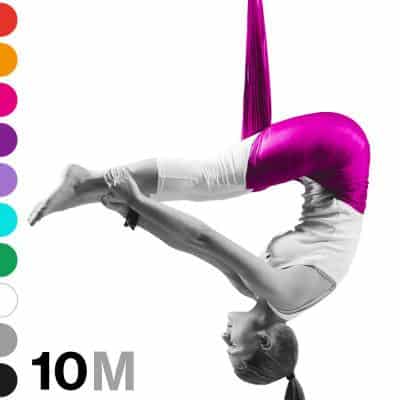 Maximum Weight: 172kg / 379lbs
Product rating: 92/100 (Read our full review)
---
YOGA SWING PRO Premium Aerial Hammock Anti Gravity Yoga Swing Kit
This is yet another very strong yoga swing. Like the Yoga Body swing, it has 3 foam handles on both sides but comes in with a slightly lower price tag. It features 4 independent hooks which can be used on an existing ceiling or wall fixtures as well as attaching it to an aerial frame or doorway.
Maximum Weight: 272kg / 600lbs
Product rating: 83/100
---
Aerial Yoga Accessories
Once you have your rigging/hardware and hammock set up, you'll soon get into the swing of things (see what I did there!)
You may want to transition to more advanced tricks, poses and spins. These may require some additions to your current aerial yoga swing set-up.
Here's an overview of what additional aerial yoga accessories are available:
AusKit Swing Swivel/Rotational Device
When you're ready to try inversions on a rotating/self-spinning swing, then you'll need a set of dual carabiners that can independently rotate.
This AusKit swing swivel is designed for aerialists using suspended swings, hammocks and other fitness equipment. Bear in mind that you will need a few inches of extra height to use these rotating devices.
---
Aerial Swivel – Rotational Connector Device
This is another swivel device that allows you to spin easily from your aerial yoga equipment (or other aerial gear). This allows for extremely smooth rotations with your swing.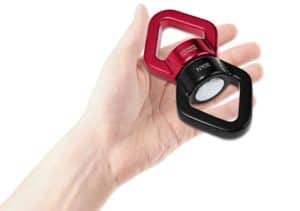 ---
Other Aerial Fitness Equipment
Besides aerial yoga, there is a growing trend for other aerial fitness equipment. Aerial sports have literally soared in popularity in recent years. New innovative aerial arts are being discovered all the time.
If anti-gravity yoga has given you the urge to run away and join the circus, then this section is for you!
Here are a few examples of other aerial fitness equipment you may see during your research:
Lyra Hoop
Lyra Hoop or aerial hoop is a suspended metal hoop that performers use to perform tricks, spins, poses, and inversions. Some aerial yoga equipment, such as freestanding frames can be used for Lyra hoop too.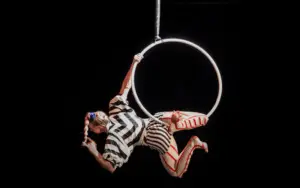 ---
Flying Pole
Flying pole is a relatively new concept which combines pole dancing for fitness with true aerial disciplines. There has been cross-over amongst these communities for years.
A flying pole is a vertical pole dancing pole that's suspended from the ceiling! The performer uses the swinging pole to perform tricks. It is an incredible difficult discipline.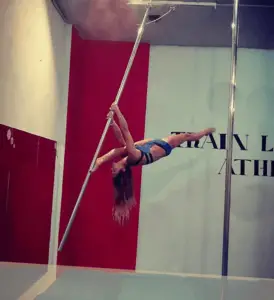 ---
Aerial Silks
Aerial silks are extremely similar to yoga swings, but without the handles which are common with yoga swings and hammocks. Again, think Cirque de Soleil!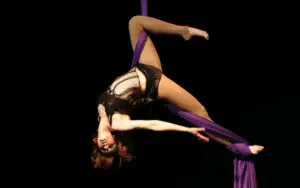 Related: 5 Unique and Innovative Aerial Sports to Try
---
Tips for Buying Aerial Yoga Equipment
Buying aerial yoga equipment isn't the same as buying regular gym equipment. You'll be relying on this to hold your entire body weight, while you're suspended off the ground and most likely upside down at the same time.
Safety is key when purchasing aerial yoga equipment, so let's consider these important factors first.
Here are several things you should consider before going ahead and spending your hard-earned money.
Weight Limit
You should always check the weight limit of a yoga swing, yoga hammock, or any sort of support frame or structure first. All of our aerial yoga equipment product reviews contain this information as we have personally checked these with the manufacturers.
How to Install
You should also check whether it's possible for you to install your new aerial yoga swing in your home. It's possible to use a door frame with a pull-up bar or even hang your yoga swing from a tree outside. Or, you can use a freestanding aerial frame, ceiling hooks and other aerial rigging equipment to hold your new yoga hammock.
Before you go ahead and make a purchase, you should check exactly how you plan to install and use your new aerial yoga swing.
Your General Safety
If you're new to aerial yoga or if you've never practiced it before, then you should consult a medical professional before starting any new form of exercise. Aerial yoga has so many health benefits, but it's not for everyone. People with certain health conditions, such as glaucoma, very high or very low blood pressure, or people with certain injuries should not take part in aerial yoga. It's extremely important to check with your doctor before embarking on this aerial journey.
Also, consider your surroundings, ensure that your home environment is suitable for your to perform aerial yoga. Ensure that you have plenty of space and that you've removed any potential hazards first.
Type & Size of Swing
There are several different types of aerial yoga swings out there, for example, some are available in different heights, colors, fabrics, etc. Some swings have a set of foam handles to hold on to for extra comfort while using the swing, some have multiple sets of handles at different heights, whereas some have no handles at all.
Again, consider how much space you need and what your home allows for before choosing which aerial yoga swing to buy.
Material
Aerial yoga swings and aerial hammocks are usually made from an extremely durable parachute-grade material. Always choose an aerial swing made from this material, don't opt for a cheap one from Wish or eBay, as you don't know what you're getting.
Remember, this isn't something you can 'go cheap' with. There are budget options available which are safe to use, so always do your research. You're in the right place!
Keep these factors in mind when choosing your new aerial yoga swing. In other words, don't cheap out! It's better to save that bit extra for peace of mind and security.
---