If you're looking to buy aerial rigging to use at home to hang a yoga hammock, there's a few things you need to consider so you know which equipment to buy. This is most likely quite a big purchase for you – you've recently started aerial yoga to improve your fitness and well-being and you've fallen in love with it!
We've all been there! Now, the time has come where you feel you would really benefit from having your own aerial yoga swing at home so you can get some extra workout time in away from class.
This is an excellent idea, having your own aerial yoga hammock can do wonders for your fitness progress. It will help you work towards your goals and see results even faster! You've probably started researching the different types of aerial rigging available and how you go about installing this in your home.
The good news is that it's quite simple and lots of us have our own yoga swings, happily hanging from our living room ceiling or even in a doorway.
This article is here you help you, we're going to tell you everything you need to know about at-home aerial rigging so you're more informed before committing to a purchase.
You will learn:
Safety advice for using aerial rigging at home
What you need to know before buying aerial yoga hammock rigging
What all the different pieces are for, from carabiners to swivels
Your options for practising aerial yoga at home
Where to buy the most popular aerial yoga equipment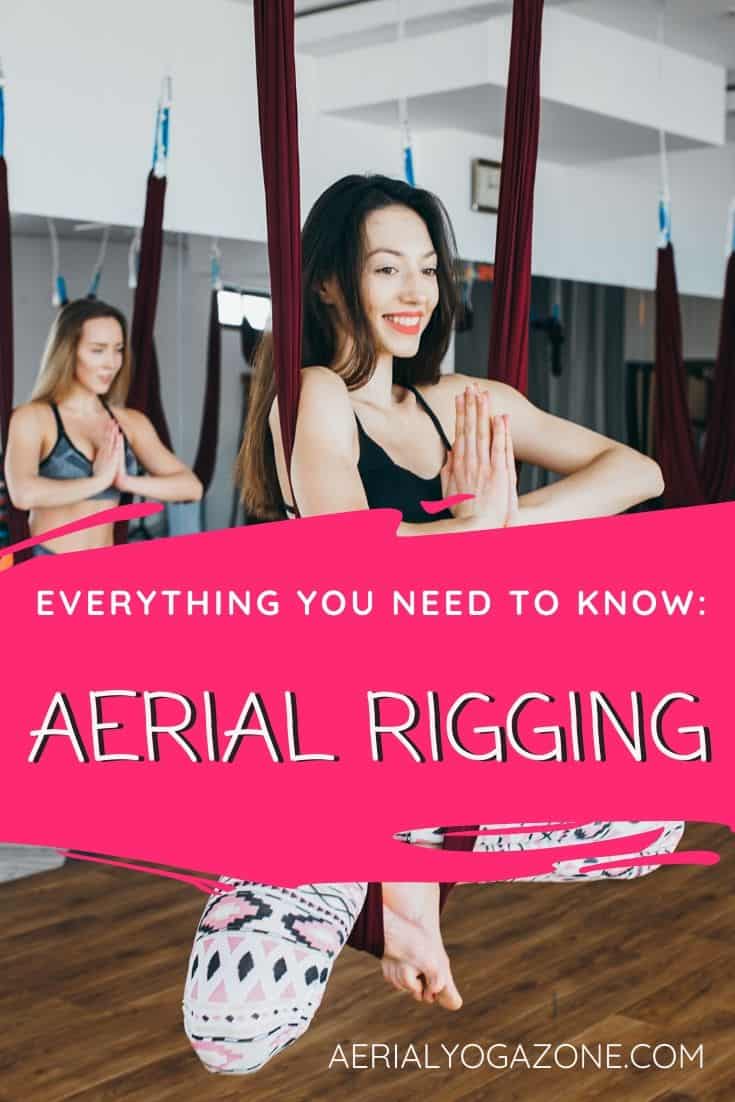 Safety First!
Sorry to drone on but… this is important. With any form of sport, especially aerial sport, safety must come first! Think about it, you're going to be swinging around on fabric suspended from the ceiling or a metal frame. You want to be safe, right? Forgetting about safety can be catastrophic and carries so many risks. Imagine if you became injured… not being able to train will be the least of your worries.
This article contains information hanging yoga swings and hammocks, but not information for circus rigging. Circus rigging involves dynamic loads and requires input from a structural engineer or professional riggers.
However, you can safely hang a yoga swing at home yourself – but you should always follow the included manual and seek help from a professional if you're unsure.
Available Height & Space
If you're planning to use your aerial rigging indoors, make sure to measure your ceiling properly so it will comfortably fit in your room. Also, think about how much height you will need in order to perform inversions safely without anything getting in your way. You don't want to be hitting your head on the wall!
Portability
Consider whether you'll be using the yoga stand at home, or if you'll be transporting it about. Does it fold away easily? Will it fit in your trunk? How will you carry it around?
Installation
If you're looking for more permanent fixtures at home, then consider how you're going to install them, whether it's a DIY-job or if you'll need help from a professional tradesperson.
Workout Style
Do you need multi-discipline rigging? Is there a chance you'll be using your hammock rigging for other aerial sports, such as hoop or silks? If you're planning to spin then you might need additional parts for your rigging setup. You need to decide what exactly you'll be using your rigging for.
Weight Capacity
This depends on how you're planning to use the stand, for regular home workout use then it doesn't matter so much. However, if you're planning any doubles poses or commercial use then you will want a stand that can withstand greater loads.
Warranty
Always check if your new aerial yoga hammock rigging comes with a manufacturer's warranty, this means if any parts become faulty then they will be repaired or replaced without charge. Remember, this isn't just regular home gym equipment, you're trusting this hardware to hold your body suspended off the ground! You can't take any risks!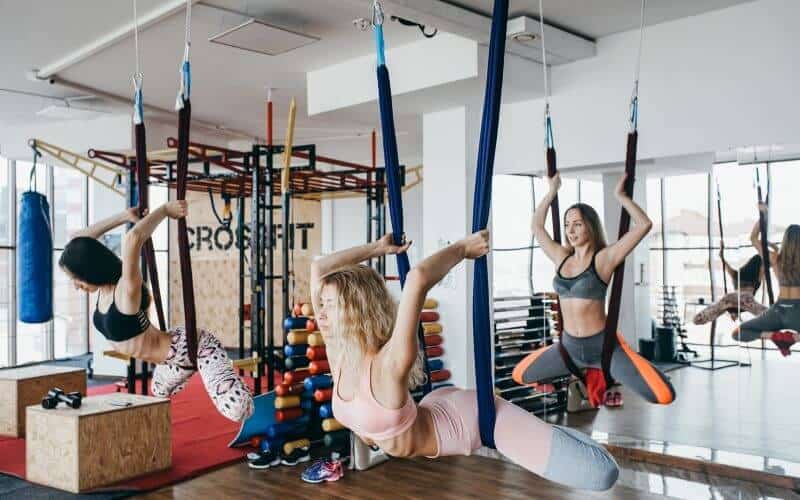 Aerial Rigging for your Yoga Hammock – What are your options?
When it comes to the options for installing aerial yoga rigging in your own home, you have lots of choices! Manufacturers have caught on to the popularity of aerial sports so there are lots of brands and types of equipment available. This section of the article will help you understand your options for using aerial hammock rigging at home so you can decide what will work best for you.
Freestanding Aerial Rig / Yoga Trapeze Stand
A Yoga Trapeze stand is a freestanding frame which supports aerial equipment, such as a yoga swing. They're usually made of high quality, durable magnesium alloy, aluminum or stainless steel, making them perfectly suited for aerial sports.
Yoga Trapeze stands are suitable for different types of aerial discipline, depending on which type you buy.
That means you can use aerial hoop (lyra hoop) or other aerial equipment too.
Freestanding aerial rigging is more expensive than the other options, but definitely the most versatile. You can even use them outside (on flat ground!) The best aerial yoga trapeze stand at the moment is YOGABODY's Yoga Trapeze, they're the industry leader in aerial yoga swings and equipment.
We've also reviewed, tested and rated many other freestanding aerial rigging, read our comparison guide here.
Door Frame Bars
A door frame bar is the simplest, quickest, and most common way to hang a yoga swing at home. You don't need to be a handyman or expert carpenter to install one either, it takes just ten minutes.
It's strong enough to support your yoga swing or hammock and is much cheaper than investing in a large frame. You can also use it as a pull-up bar to build your upper-body strength!
Click to check the current lowest price
Ceiling Hooks
Another quick, simple, popular and affordable way to hang your yoga swing is to use ceiling hooks. This makes it a very strong way to hang your aerial yoga swing. You will need to know the strongest area of your ceiling – usually making use of an i-beam or strong joist.  This method of installing an aerial yoga hammock does take some handy work! However, ceiling hooks are a long-term solution to being able to enjoy aerial yoga for years to come. This set of ceiling suspension hooks include the two main brackets which can hold up to 1800 lbs. They also include carabiners to attach your aerial yoga hammock easily.
Multi-Gyms
If you want to add some variety into your workouts, then multi-gyms are a great choice for aerial yoga and more! The Omni Yoga and Trapeze Stand is extremely well-made and sturdy and suitable for different aerial disciplines.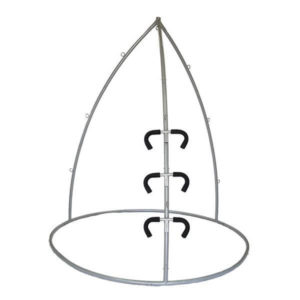 ---
Putting it all Together – Aerial Rigging Pieces & Other Accessories
With your main rigging in place, to get the most variety from your workouts you'll need some extra bits & pieces to extend what's possible. Here's a breakdown and explanation of the different aerial rigging accessories and pieces available:
Carabiners
Carabiners are the bread and butter of aerial rigging! Aerialists use these for safely attaching different elements of their rigging together. Carabiners used for aerial rigging are extremely strong and durable with climbing-grade materials.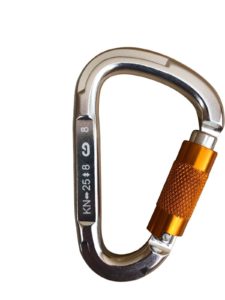 Shop Aerial Rigging Carabiners
Get 10% off Aerial Yoga Clothing & Equipment with Uplift Active

Use the discount code POLEFIT10 at the checkout
"Daisy Chain" Extension Straps
Aerial yoga extension straps are typically a pair of adjustable straps that are fixed between the top bar and the hammock or swing. They can be used to make your yoga swing or hammock longer in length, perfect for higher ceilings or if your swing is just a bit too high off the floor for your preference.
The straps used to hang hammocks and yoga swings are typically a 'daisy chain' style of strap. This means that the fabric has loops in it, making them completely adjustable.
It's also possible to double-loop the straps through a connector or even multiple connectors due to the 'daisy chain' design. They're made of a strong nylon material with strong double-stitching.
Image from Amazon
See the best Aerial Extension Straps
Aerial Swivel Rotational Devices
When you're ready to try a rotating/self-spinning swing, then you'll need a set of dual carabiners that can independently rotate. The hammock, hoops or silks won't rotate without an additional rotational device.
This swivel is designed for aerialists using suspended swings, hammocks and other fitness equipment. Bear in mind that you will need a few inches of extra height to use these rotating devices and if your swing/silks is double-pointed, then you'll need a bear-paw plate too (see below)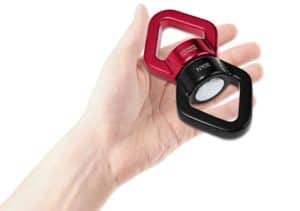 Bear Paw Plate
If you want to swivel from a single-point, you'll need bear paw plate to attach your double-pointed aerial equipment to overcome this. Otherwise, you won't be able to rotate without getting in a twist ? Cutely named after the shape of a bear's paw print, these are really useful to have when you're ready to step up your aerial workouts to the next level.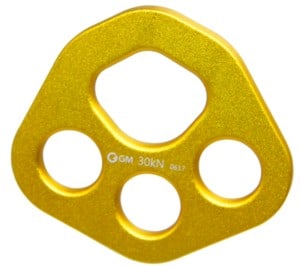 Figure 8 Plate
These places are designed to separate the top of your aerial silks and spread the pressure in a natural way.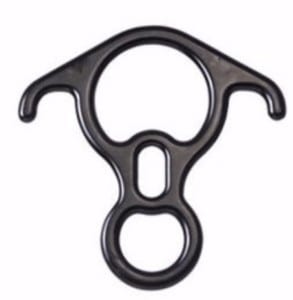 Shop Figure 8 Aerial Rigging Pieces
---
Best Place to buy Aerial Rigging
YogaBody – Original Yoga Trapeze
Uplift Active – Aerial Yoga Gear
X Pole – Leaders in Pole & Aerial Fitness
Save this Guide
Use this image to Pin this guide to aerial yoga rigging to Pinterest!
This article is tagged with: