This article is a guide about aerial yoga clothing and contains tips for what to wear when using your yoga hammock, silks or yoga swing.
Aerial yoga is a type of yoga performed on a fabric hammock, also known as yoga silks, a yoga swing or yoga trapeze. It's intended to encourage more participation in challenging poses, and offers an alternative approach to other types of yoga.
When it comes to aerial yoga clothing, there are quite a few important things to consider. You won't just want yoga pants that are comfortable and affordable—you'll also want pants that breathe well and wick away moisture, so that you can focus on your practice instead of worrying about sweating through your pants.
Aerial yoga clothing is often overlooked when it comes to gym wear brands in the US, but it's easier to find these days, since social media has skyrocketed its popularity.
What to Wear for Aerial Yoga
Firstly, let's discuss what not to wear for aerial yoga. you'll want to avoid loose clothing, even if that sounds counter intuitive. Many people prefer to wear loose clothing when working out for breathability and comfort, but when you're using yoga silks, lose items of clothing will get in the way.
It's easy for loose, flowing tops and baggy t-shirts to get caught in the silk and restricting your movement. Also, if you're at the level where you're ready to hang upside down, loose clothing will fly up over your face when you're inverted, exposing yourself and covering your eyes at the same time!
Just because you'll be wearing form-fitting workout clothing, it doesn't mean you have to be uncomfortable. These high-waisted leggings with tummy control are the most comfortable leggings I've found so far!
Just keep it simple; leggings or shorts with a fitted gym shirt or sports bra. Or, you could opt for a bodysuit, leotard or even a circus performance costume if you're feeling more adventurous!
Most clothing that's designed and intended for regular yoga is usually suitable for aerial yoga too.
See also: How to install an aerial yoga hammock at home
What to Avoid
Besides loose items of clothing, you should also avoid the following when you're practicing aerial yoga:
Zips and buckles – they can tear or damage the fabric
Leaving your long hair down – tie it up into a bun with a satin scrunchie (we don't want breakage with a regular old hair elastic)
Jewellery – it will get in the way and potentially damage the silks too. Small earrings and piercings are fine.
Perfumes, lotions and moisturizer – if you use these, you'll end up staining the silks and having to wash them much more often
If you're wearing leggings with pockets – don't put anything in the pockets unless you want it to fall out
Where to Buy Aerial Yoga Clothing
Here are the best places to by aerial yoga clothing and accessories at the moment
Uplift Active
Uplift Active is a dedicated supplier of aerial yoga equipment, including clothing. Uplift Active is an American company – their range is extensive and you can get 10% off with the code POLEFIT10 ?

Get 10% off Aerial Yoga Clothing & Equipment with Uplift Active

Use the discount code POLEFIT10 at the checkout
Amazon
Amazon is a great place to shop for aerial yoga clothing. There are a ton of different styles and colors to choose from, so it's easy to find something that suits your personal style.
You may think Amazon is oversaturated with products, but it's actually a treasure trove of aerial yoga products. Here are a few of my favourites ?
Dragonfly Brand
Dragonfly is an extremely high quality manufacturer of aerial, yoga and polewear. They're based in Europe but they do ship to the US if you're able to wait (it's worth it!)
Their leotards and unitards are stunning, and so comfortable.
The Gym People
X Pole
X Pole is a pole dancing brand, but they also sell clothing that's absoutely perfect for aerial yoga.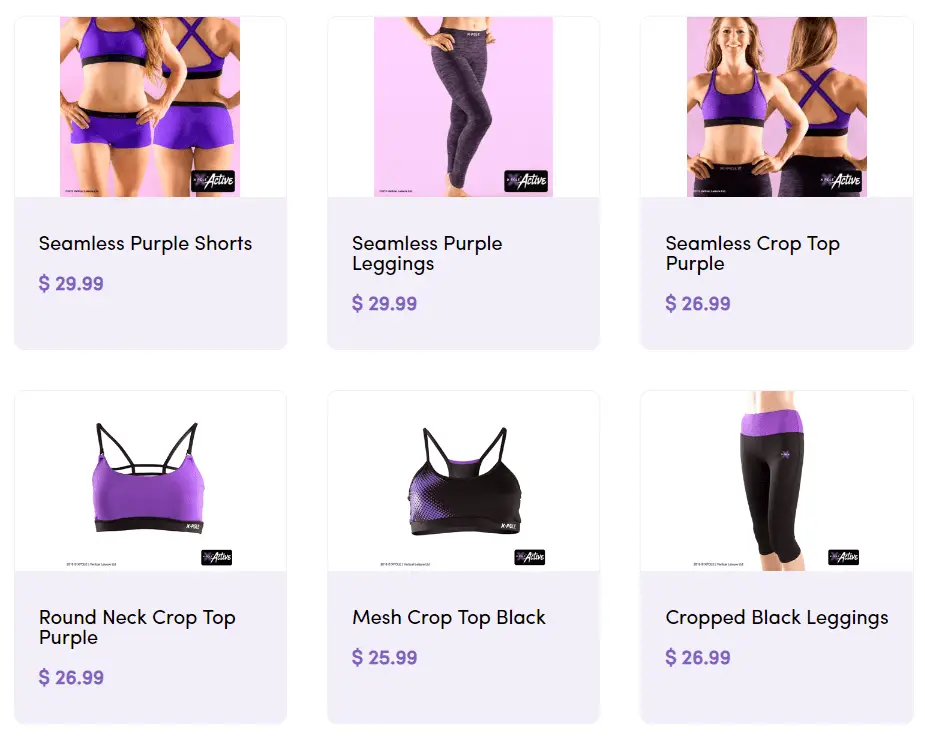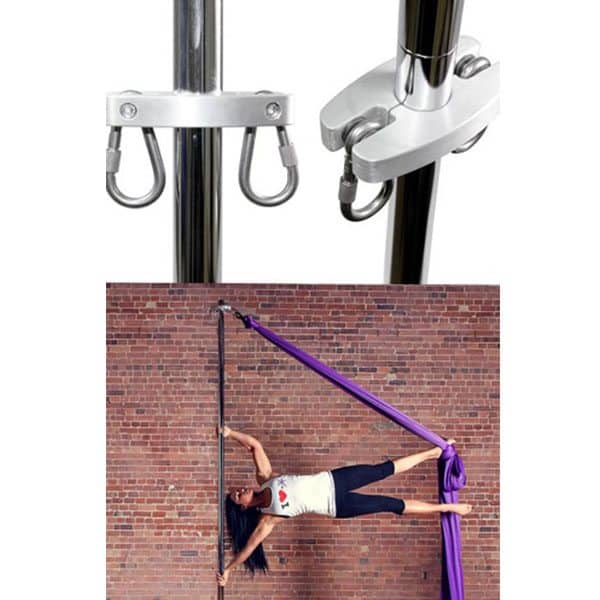 Aerial Yoga Clothing FAQs
Still have questions about aerial yoga clothing? Check out the FAQ ⬇
This article is tagged with: