This article covers how to install an aerial yoga hammock at home.
Congratulations for getting started with aerial yoga! It's such a rewarding form of exercise no matter whether you're a beginner or a seasoned pro. Having your own aerial yoga hammock or swing is the best way to advance your progress outside of classes.
You will learn:
Where to safely hang your aerial yoga hammock
How much floor space and vertical space is required for aerial yoga
How to install an aerial yoga hammock at home for beginners
There are the days where you just don't have time to get in the gym, other days you can only manage the treadmill for five minutes before your motivation is gone, and who wants to spend money at a gym anyways?!
Having your own aerial yoga setup at home gives you the opportunity to workout and meditate in your own, safe environment.
Where Can You Safely Hang An Aerial Yoga Swing?
Let's explore 4 different options for installing your aerial yoga hammock at home:
Option 1: A Freestanding Aerial Rig
Freestanding aerial rigs are all round great options for aerial yoga at home, they can be set up inside or outside (as long as you have the correct anchors) and can be used with a range of other aerial sport equipment like Lyra hoop and aerial silks, so you have lots of options.
A freestanding aerial rig is extremely versatile because it's portable, it can be set up almost anywhere flat.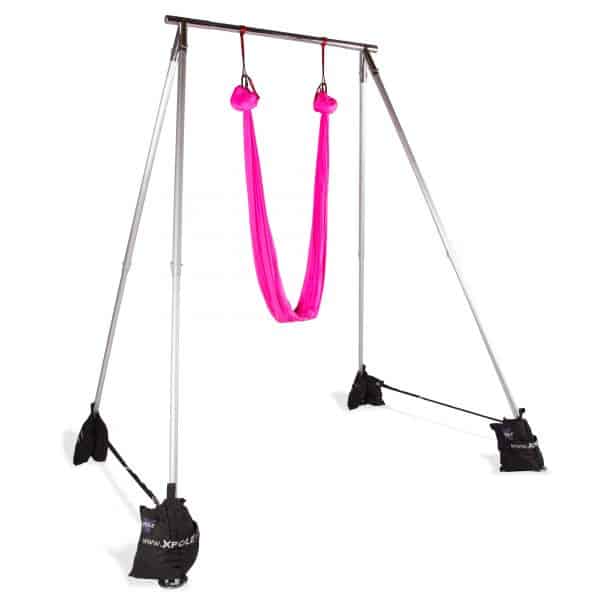 Option 2: Door Frame Bars
Door frame bars are a bit taboo in some circles, mainly because the range of motion and movement is reduced.
But for those limited on space, or if you will be only performing select stretches and poses this may be for you.
Door bars are so easy to install.
You basically have three options when hanging your yoga swing from a pull-up bar:
Expandable door frame bars
Screw-in pull-up bars
Over-the-frame pull-up bars
For Aerial Yoga you want to avoid over the frame bars unless they have extra safety grips or attachments. Expandable and screw in bars are great, so long as installed correctly!
Option 3: Ceiling Hooks Or A Fixed Rigging Point
Although the other two options involve some installation/setting up, attaching to the ceiling is a more permanent option. This is less flexible however, as there will only be one spot where you swing can be used.
Some homes will not be suitable for hard rigging in to the ceiling, especially newer homes.
Exposed beams need to be tested before hanging any yoga swings or aerial rigging equipment from them.
Always seek advice from an engineer or an experienced rigger who is able to asses the suitability of your home.
Option 4: A Sturdy Tree Branch (risky)
One of the most appealing aspects of aerial yoga is the photography opportunities it provides. Beautiful photos of aerialists on silks or yoga swings outdoors hanging from a tree sounds like a dream.
However, you can ever guarantee the strength of a tree branch and by the time you find out, it could be too late.
But we've been using tyre swings for years, I hear you say! Yes, we have, but they've also been falling for years too.
Get 10% off Aerial Yoga Clothing & Equipment with Uplift Active

Use the discount code POLEFIT10 at the checkout
What To Consider Before Installing Your Yoga Hammock
It's generally accepted that you will need around 6 foot of space from the centre of your yoga hammock all the way around, for you to be able to use your yoga hammock safely and to its full potential.
For people who rent, make sure you speak to your landlord first.
It is almost certain you will need permission to add fixtures to ceilings or door frames. If they agree, they may also know more about the property structure and have plans or be able to arrange the work with you with someone they trust.
Buy the correct weights or anchors for your aerial stand, even if you are not performing vigorous moves in the hammock.
You should make sure that you have sand bags/anchors attached to the legs to keep it stable in case you or the stand does something unpredictable, even when indoors.
Your Ceiling Height
If you have a particularly high ceiling, you will need extension straps for your yoga hammock or it will be out of reach!
The extensions straps should be rated for circus/aerial use and NOT any old chains or certainly not leather straps!
Fixtures Needed for Aerial Yoga Hammocks
Some yoga hammocks come with the fixtures needed, but it may be worth checking these are suitable for your home/needs before attempting to install them.
When buying ceiling fixtures, you should always consult an experienced structural engineer. Aerial rigging needs to support dynamic weight loads.
Choosing the wrong anchor or attachment could result in you being hurt or your home being damaged.
Seeking Professional Advice for Installing Yoga Hammocks
Skilled people come at a cost. Some contractors will offer a free visit where they will scope out the job and price it up, but others may charge for this, or just be able to quote over the phone. Make sure you confirm price and what needs to be done. If possible ask them what fixtures you will need and purchase them yourself this can help with cost.
Make sure they know what you mean: It's not impossible for someone who does rigging for a job to not 100% understand what you may be looking for when you ask them to install a hammock. Remember to explain clearly what you will be doing on/in the hammock. Especially things that involve swinging, because this can generate forces 4-5 times your body weight!
Remember to explain clearly what you will be doing on/in the hammock. Swinging can generate forces 4-5 times your body weight!
Looking After Your Aerial Yoga At-Home Setup
Always perform regular checks on all parts of your aerial equipment, check the anchors and attachments to the ceiling, check the material the hammock is made of etc.
The rigging points should be inspected closely before each session to ensure there is no rust or signs of wear.
It's also beneficial to wash your aerial silks or yoga swings regularly so they don't trap bacteria in the fabric!
How To Install An Aerial Yoga Hammock At Home: Summary
Always follow the manufacturer's instructions included with your aerial yoga hammock.
Installing your own aerial yoga hammock at home is incredibly rewarding and has so many benefits that will help you reach your physical, mental and spiritual goals.
Further Reading:
Here are some other articles which may help you get started with your aerial yoga hammock at home:
This article is tagged with: