If you love aerial yoga and have your own yoga swing at home, you're probably looking for new tricks, accessories and apparatus to use to improve your technique. When it comes to aerial yoga accessories, there are loads of unique and interesting items available to choose from!
When you're wanting to integrate some mat yoga or floor work into your aerial workouts, or you need to stretch a particular area of your body, there's something on this list for you.
So, without further delay, here is a list of awesome accessories to help you step-up your aerial yoga game! Enjoy!
1. Yoga Swing Hanging Ladder
Why stop at a hammock, swing or trapeze when you can have a hanging ladder?! Use this ladder with your existing hardware and rigging to expand on the versatility of your aerial yoga skills.
You can use the rungs on the hanging ladder to make some really cool shapes:
2. Yoga Swing Cushion Insert
If you need some extra padding and comfort in your yoga swing to perform more advanced poses, try a cushion insert for your swing.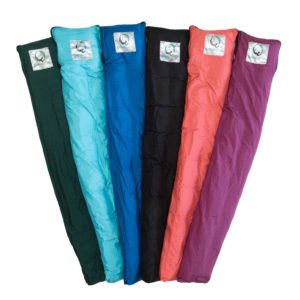 These cushion inserts are a very simple design, you slide the cushion length-ways into your swing, fold it over at the sides and you're ready to comfortably swing!
They're great value at $25 and there's a choice of 5 colours!
3. Yoga Wheel
The Yoga Wheel is the ultimate apparatus for anyone trying to improve their back bends. There's also loads of other poses and stretches you can perform using the Yoga Wheel. A high quality one like this from UpCircleSeven can support 500lbs+ so you can be confident it will support your weight.
4. Extra Large Yoga Mat
If you find yourself wanting to stretch out more than a regular mat allows, this extra large yoga mat could be the answer to your floorwork troubles!
At 72″ x 48″ – it's practically double the size of a regular yoga mat and it's really thick and padded. That means it's great for using outdoors too. Alternatively, use this beneath your yoga swing for added support.
Related: Best Aerial Hoop for Aerialists of All Levels
5. Portable Neck Traction Device
Need a neck adjustment when you're out and about? Look no further! Neck pain is the root cause of millions of headaches and migraines every day. It's not the only cause of headaches, but it is a big contributor!
Having access to a chiropractor or aerial yoga swing can help – but they're not always available on demand if you're out and about at work, etc.
This portable device allows you to adjust and stretch your neck. You can use it at home, when travelling or at work.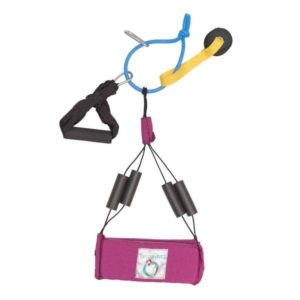 6. Deep Tissue Massage Balls
If you gravitated towards aerial yoga to help your aches and pains – these deep tissue massage balls are perfect for you!
In fact, they're perfect for anyone who suffers with neck or pack pain, aching muscles anywhere on your body, tension, stress or soreness after exercise.
The difference with these  massage balls is that these are stronger and more  durable than cheaper alternatives. They're the perfect amount of friction vs firmness that you need for a pain and stress relieving self-massage!
7. Handstand Canes
To take your yoga workout to the next level – these handstand canes are the ultimate balancing apparatus!
Equipment like this was previously reserved for acrobats, circus performers and gymnasts – but not any more!
These Handstand Canes help you train your strength, flexibility and balance all in one.
8. Yoga Straps
You can use these yoga straps on their own or in combination with your yoga swing. They're a great stretching aid for both traditional mat yoga and aerial yoga practitioners.
What's more, they're inexpensive, easy to use and highly portable meaning you can get your extreme stretching fix when you're out and about or travelling! A must have for any yogi.
Learn more
9. Flying Fitness 101 Poster
Stuck for ideas? An eye-catching poster on the wall of your workout space can give you inspiration for new things to try.
This poster by OmniGym has 101 functional moves, illustrated in 3-D making them visual and easy to learn.
So, those are 9 unique aerial yoga accessories – what other accessories do you love? Leave a comment below!
---
Pin this Article
Use the image below to pin this guide and save it for later reference!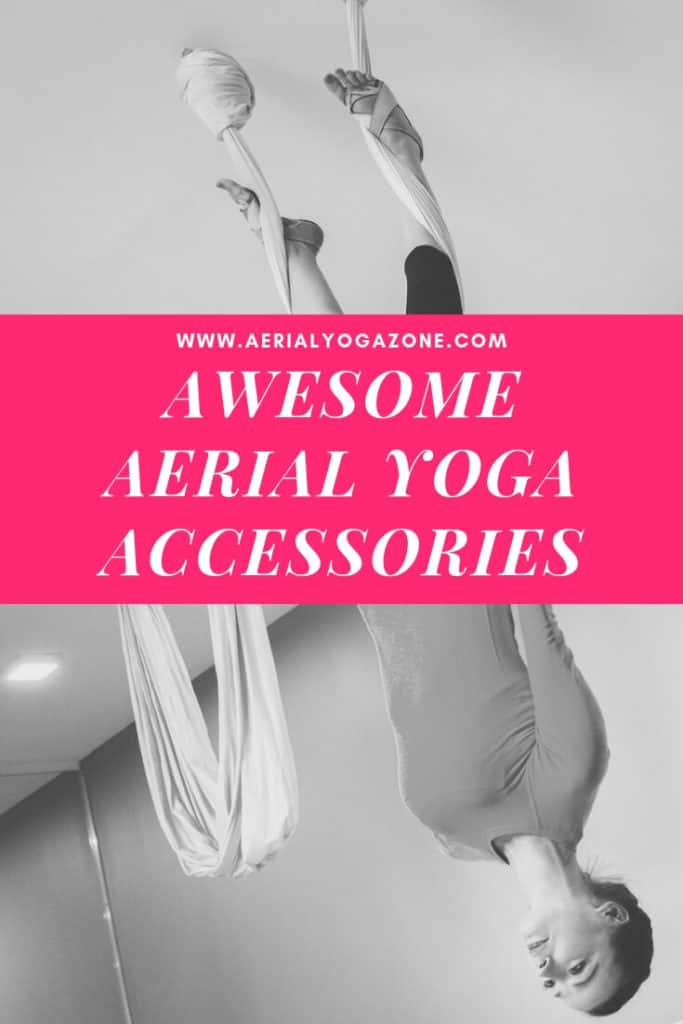 This post contains affiliate links. That means that, at no extra cost to you, we may receive a small commission if you buy a product using one of the links on this page. Read our full disclosure here.
This article is tagged with: