Are you looking to elevate your yoga practice and try something new and exciting? Look no further than booking your next vacation at one of these incredible aerial yoga retreats!
Aerial yoga, also known as anti-gravity yoga, combines traditional yoga poses with the use of a suspended fabric hammock to add a fun and challenging twist to your practice.
And what better way to fully immerse yourself in the aerial yoga experience than by attending a retreat?
In this blog post, we will explore the benefits of aerial yoga retreats and give you some suggestions for where to find the best ones.
Happy flying!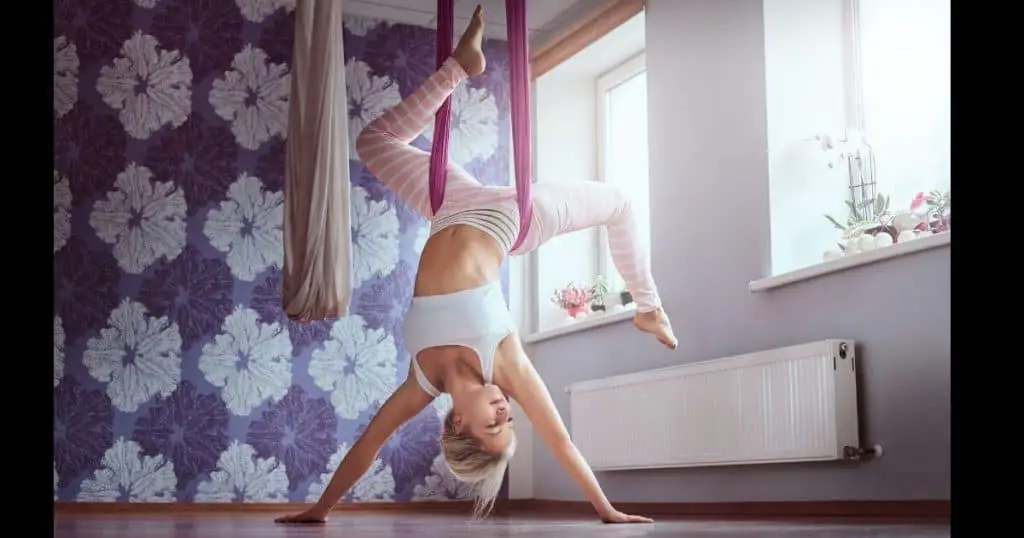 What To Look For When Booking Your Next Aerial Yoga Retreat
Accommodation – you want to check whether accommodation is included or if you have to purchase this separately. As aerial yoga retreats involve physical activities, you'll want to ensure that you room has all the facilities you need in order to be comfortable.
Location – aerial yoga retreats happen all over the world, so depending on your budget and ability to travel, you may have to travel internationally to find your perfect stay. Alternatively, you may be looking for an aerial yoga retreat that is closer to home.
Cost – cost is a major factor when booking any upcoming travel or vacation. Your budget usually dictates how much you'll be able to splurge on your next trip.
Aerial yoga workshops – this is an aerial yoga based vacation after all! You'll definitely want to ensure that your planned retreat has lots of education and workshops that involve aerial yoga.
Included extras – What else is included in the price of your stay? What about food? Transport? Equipment? You'll need to check all of these things before booking your next aerial yoga retreat.
Number of attendees – depending on what sort of experience you want to gain at the retreat, the number of other attendees can be important. Check with the organizers whether this is a large retreat or a more intimate one.
Other activities – if you're traveling a long way, what else is there to see on your trip? Check out local guidebooks for ideas of what to do in between aerial yoga workshops.
Conclusion
In conclusion, aerial yoga retreats are a great way to take your yoga practice to new heights and have a unique and exciting experience.
Not only will you get to try out aerial yoga and see the benefits for yourself, but you'll also have the opportunity to fully immerse yourself in the practice and learn from experienced instructors.
So why not give it a try and see how aerial yoga can elevate your yoga practice and your overall well-being.