Are you considering getting yourself a new YOGABODY Yoga Trapeze® Swing to practice aerial yoga at home with a professional bit of equipment for a great price? This review will help you decide whether this yoga swing is right for you. Remember, you'll be trusting this hammock to support your entire body weight while you hang upside down from it. Buying aerial equipment takes a little more thought than buying regular gym equipment!
This hammock by YOGABODY is an excellent choice for someone looking for a high-quality yoga hammock, whether you're a complete beginner or a seasoned aerial professional. YOGABODY Yoga Trapeze® Swings are found in gyms, studios and homes around the world. They are a top quality brand in aerial yoga equipment.
This review will help you decide whether the YOGABODY Yoga Trapeze® Swing is the right one for you!
About the YOGABODY Yoga Trapeze® Swing
This 'Yoga Trapeze® Swing' is a professionally designed aerial yoga hammock by the company YOGABODY. YOGABODY offers for a sale, a large range of products from food supplements to
yoga accessories and even online fitness programs.
They are the only company who specialize in alternative yoga training equipment, which includes this innovative yoga trapeze® swing.
Features
Here's an overview of its main features:
Professional design. This professionally designed, specialist yoga trapeze swing is perfect for home, studio and professional use for aerial yoga enthusiasts of all skill levels.
Large foam handles. This swing has 3 sets of large, comfortable foam handles with extra padding added to them for added comfort on your hands, meaning that you don't have to hold onto the bare nylon. The 3 sets of handles are at different heights, meaning you can find the right handle position for you when practicing inversions and other tricks.
Use indoors or outdoors. This hammock is suitable for both indoor or outdoor use.
10 Year Guarantee. This 10-year guarantee gives you ultimate peace of mind. It will be repaired or replaced should any of the parts become damaged. YOGABODY provide excellent, personalized customer service to all its customers.
Health benefits. The health benefits of using a yoga swing, such as this YOGABODY Yoga Trapeze® Swing are wide and varied. You can use the swing for inversion therapy, spinal decompression and to relieve aches and pains.
Load capacity. Its capacity is 600lbs (272kg), however, this is the absolute maximum weight it can handle and this also depends on the type of frame/ceiling supports you have in place.
Quick & easy installation. It can be easily attached to your existing aerial rigging, ceiling suspension hooks, door frame, exposed beam or tree branch.
This video gives an excellent walk-through of how to install the swing properly and safely. Here you will see how simple it is to set up!
How to Install and use
So, once you've received your YOGABODY Yoga Trapeze® Swing, you will be eager to use it straight away! You will need to attach it to your ceiling hooks, bar, aerial rigging or nearest tree. You'll probably be eager to set it up right away, but follow the instructions carefully for a safe experience:
Advantages
Let's take a look at the YOGABODY Yoga Trapeze® Swing advantages first:
Quality
This is an extremely high-quality, durable and professional yoga swing. The 10-year guarantee really shows how much confidence the manufacturer has in its quality. Some reviews online have even reported using it safely with two large adults suspended from it (make of that what you will…) It's made from the best parachute-grade fabric, carefully stitched to comfortably support you during your aerial yoga inversions.
Easy to Install
As you can see from the video instructions above, it's very easy to install straight out of the box. It fits onto an aerial sports frame or rigging, ceiling hammock hooks or a door frame. You can install it yourself without any assistance, you may need a ladder depending on the height of your ceilings!
Comfort
This YOGABODY Yoga Trapeze® Swing is comfortable to use and perform tricks/inversions with. The foam-padded handles mean that you can perform inversions with extra comfort and ease, especially for beginners who are just getting used to the sport.
Value for Money
This is great value for such an aerial hammock with a 10-year guarantee! No other aerial swing or yoga hammock offers such a generous guarantee at the moment!
Disadvantages
All products have disadvantages, but there aren't many this time! But, for the sake of fairness, we should highlight a few negatives. Here are the disadvantages, which you should take into consideration:
The Material does not Stretch
This YOGABODY Yoga Trapeze® Swing is made so that it does not stretch or give at all, while this is still extremely supportive, it's not quite as comfortable as a swing which does stretch slightly. Try the Vertical Wise 10m silks if you require the fabric to stretch for extra comfort.
Conclusion
If you're looking for an extremely high quality, durable, safe product that delivers excellent value for money, then that's exactly what you get with the YOGABODY Yoga Trapeze® Swing! With the 10-year product guarantee from the manufacturer, you can't go wrong with this swing!
No other manufacturer offers a 10-year warranty on its product, This gives you total peace of mind. 
Where to Buy
Buy now directly from YOGABODY.
---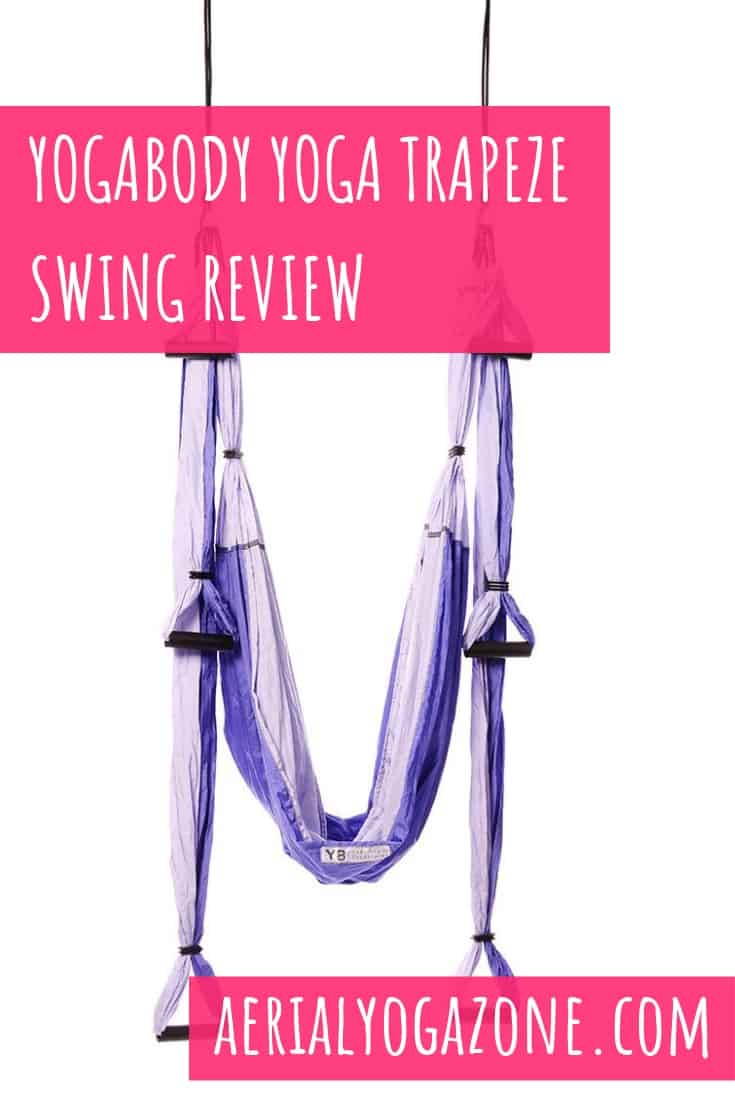 Read more aerial yoga reviews here.
This post contains affiliate links. That means that, at no extra cost to you, we may receive a small commission if you buy a product using one of the links on this page. Read our full disclosure here.
YOGABODY Yoga Trapeze Swing
Pros
Extremely easy to setup and install with relatively no hassle
Foam-padded handles make for an extra comfortable experience, especially for beginners
10 Year Product Guarantee for ultimate peace of mind
Large weight/load capacity - up-to 600lbs!
Cons
Absolutely no stretch/give in the fabric at all
This article is tagged with: