Are you considering buying the KT Yoga Trapeze Stand? It is a very popular freestanding frame suitable for use with aerial yoga swings, hammocks and other aerial equipment. It's currently sold on Amazon and is one of their most popular yoga swing frames for sale at the moment. But, does it live up to the hype? Let's find out…
The KT Yoga Trapeze Stand is one of the first items that appears if you search for freestanding yoga frames online. The stand is a freestanding frame, which means that you can use it without the need for ceiling fixtures, both indoors and outdoors.
The KT Yoga Swing Frame is suitable for use with an aerial swing, yoga hammock, aerial hoop and static trapeze. You can also use it for regular pull-ups or even hang a punching bag from it if you'd like!
If you're wanting to practice aerial yoga at home, but don't want to fix permanent fixtures to your ceiling, then this type of yoga swing frame is your best option.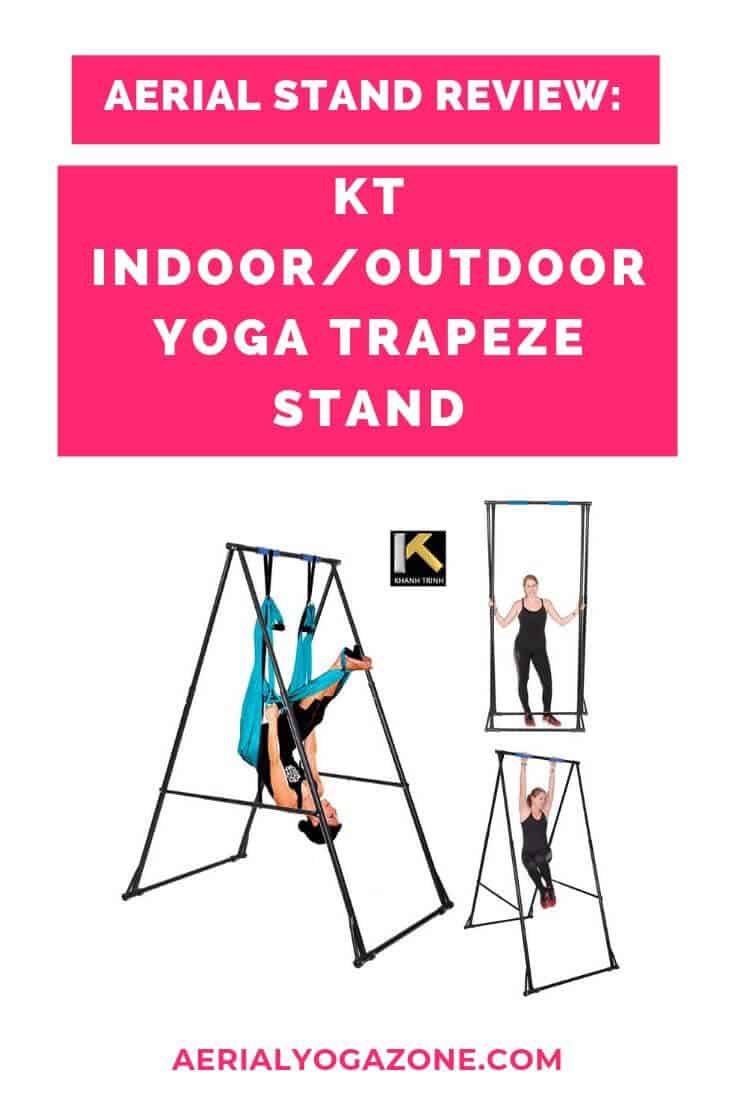 KT Indoor/Outdoor Yoga Trapeze Stand Features
These are the main features of this popular Yoga Trapeze Stand:
Can be used indoors or outdoors
Height adjustable from 5.9'' – 8.1'' (1.80m – 2. 56m)
It's high enough to comfortably use an aerial yoga swing but also low enough to use indoors in most homes
Highly portable and easily transportable – folds away in a matter of seconds after use
Had a maximum load of 660 lbs (300 kgs)
Extremely sturdy and strong frame made from alloy steel
Multi-discipline – suitable for use with silks, trapeze (static) hammock and hoop
Use with your existing aerial silks and other rigging hardware
Folds away for easy storage
Easy to clean (wipe clean)
How to Install and Use
Safety first! You should always ensure that you have enough floor space and ceiling height available to use the frame safely. If you're using the equipment outside, find some flat ground that's preferably paved or concrete.
The frame itself is very easy to put up and take down, but it is most definitely a two-person job.
If you're using it outside, the pieces are durable but won't withstand prolonged periods of harsh weather.
For extra stability, use weighted bags (e.g. sandbags) around the base of the frame.
Advantages
The main advantages of the KT Yoga Trapeze Stand are:
The frame is extremely well-made and sturdy and it feels very safe to use, even when swinging
Just 20-minutes to put up with detailed instructions
Can be adjusted to suit your environment and how much height you desire/have available to use
Stores away very tidily and easy to take down after use (if required – it's perfectly fine to leave it up too)
A very versatile product, with the option to use multiple different types of sports, gym and aerial equipment with this freestanding rig
Disadvantages
As with any product, there are always disadvantages.
The frame itself does move and rock slightly during use. This is normal, but it takes some getting used to if you're more familiar with permanent aerial fixtures and rigging in a studio.
It needs at least two people to put the frame up and take it down, so you'll always need an extra person around to help
Cannot be used for acrobatic swinging aerial sports, such as trapeze, gentle swinging is OK.
Conclusion
By having the opportunity to perform your workout of choice regularly, you'll be amazed at how quickly your body will react and start to change. If you want to become really well-practiced in aerial yoga or any other aerial discipline then you will need good equipment. By investing in a high-quality option, such as the KT Yoga Trapeze Stand, you're giving yourself the flexibility and ability to maximize your true potential with this sport.
With the KT Yoga Trapeze Stand, you won't be limiting yourself in any way. You'll be able to practice your new hobby anywhere – at home, in your back yard, at the beach, at the park. The possibilities with a freestanding rig are endless!
The 3 'S's of this frame – stability, safety, and sturdiness will give you the confidence and security needed to progress further, achieve more and improve your skills to the next level.
Whether you're new to aerial sports, or you're a seasoned pro – the X Pole A-Frame is the best multi-discipline aerial frame for sale at the moment.
It's affordable and makes aerial yoga accessible to more people, therefore, we highly recommend this product.
Where to Buy
---
This post contains affiliate links. That means that, at no extra cost to you, we may receive a small commission if you buy a product using one of the links on this page. Read our full disclosure here.
KT Yoga Trapeze Stand
Pros
Very well-made & sturdy
Quick & easy to put up and take down
Height adjustable to use in various different indoor and outdoor locations
Suitable for use with various different aerial equipment, such as silks, hoop, trapeze and yoga hammocks
Cons
The frame rocks slightly during use
Heavy and bulky to store and carry
This article is tagged with: