21st Century life leaves little-to-no time for clearing your head. If you want a clear mind, you have to set aside some time for yourself. This article contains 6 different ideas to help you clear your mind today.
With a clear head, you can enjoy these benefits:
Mental clarity / clear thoughts / reduced 'brain fog'
Better / more refreshing sleep
Easier to fall asleep and wake up
More efficient performance at work
Improved motivation to get things done
Enhanced mood / feeling happy and content more often
Increased ability to focus and not get distracted
Sounds good, right?
You will have to allow yourself some time for this regularly, whether it's 30 minutes everyday or a couple of hours on a Sunday afternoon. Even if you have a busy schedule, make sure you set aside time for yourself.
If it helps, disconnect your phone, put it on 'Airplane Mode', turn it on silent or whatever helps to make this time your own and free from distractions.
So, here are 6 ideas designed to help you clear your mind that you can try right away!
1. Take a Long Bath or Shower
Taking a long bath or shower is a tried and tested way of helping you to relax. Set yourself aside an hour. Take a shower to get yourself clean from head-to-toe. Then, run a deep, hot, relaxing bath.
Use some bubbles, bath bombs and salts, light some candles and put on some quiet, relaxing music. Shut the door and block out the world until all the bubbles have gone and it's time to get out.
Try these epic Luxury Bath Bombs with essential oils to help you relax
Make sure your towel is on the radiator (if you live in a cold country) and you have a fluffy bath robe ready for when you're done.
During your bath, don't think about anything else apart from how nice the warm water feels on your skin and how relaxing the dimly lit candles are.
2. Learn to Play a New Song
If you have the most basic of music knowledge and access to a musical instrument, such as a piano or a guitar then try learning a new song.
Even if you just play the melody or just the chords, or a simplified version, there's bound to be a tutorial on YouTube that's easy to follow.
Some recommendations to try are:
Radiohead – No Surprises (Piano, Guitar)
Gary Jules – Mad World (Piano)
Nirvana – Come as You Are (Guitar)
Thomas Newman – Any Other Name (Piano music from American Beauty)
Or try any song you want, just make sure it's within your ability so you don't get frustrated!
Learning to play a new song gives you the sense of achievement as you can hear/sense your progress taking place instantly.
If you can't play any instrument or don't have access to one, then get an app on your phone or tablet with a piano keyboard on screen and follow along to your favorite tunes with one finger on your phone's screen. Trust me – it's therapeutic!
3. Try a Coloring Book
Coloring books for adults have been around for a while. Many people use them as a way to relax and clear their minds.
You can pick up coloring books relatively cheap almost anywhere. There's even these ones here especially for aerialists!
If coloring isn't your thing, then any thing that takes patience and a methodical approach is good.
Things like crocheting, knitting, sewing, drawing, sketching, flower arranging, sculpting, make-up, home DIY, wood carving, cake decorating, food presentation, or anything that has lots of attention to detail in it!
4. Your Favorite Stretch
What's your favorite stretch? Mine is to sit on the floor in a wide 'straddle' position with my legs and flop my body forward, reaching my arms out as far as possible, like this:
I can sit like this for ages, watching TV or scrolling on my phone. Of course, I do vary my stretching routine or otherwise I'd have very sore muscles – but it's a healthy and therapeutic way to clear your mind of work and other stresses.
5. Take a Long Walk
It sounds cliched, but a long walk can do wonders to help clear your find if you're feeling foggy or stressed.
During your walk, take as much in as possible. Walk slowly, be observant of your surroundings, the texture of the ground, the colour of the passing cars, the smell of the plants and the grass. Listen to the sounds you hear closely, or wear headphones and find music that matches your surroundings.
If you're lucky enough to live somewhere beautiful then take advantage of this!
6. Stretch & Meditate on your Yoga Swing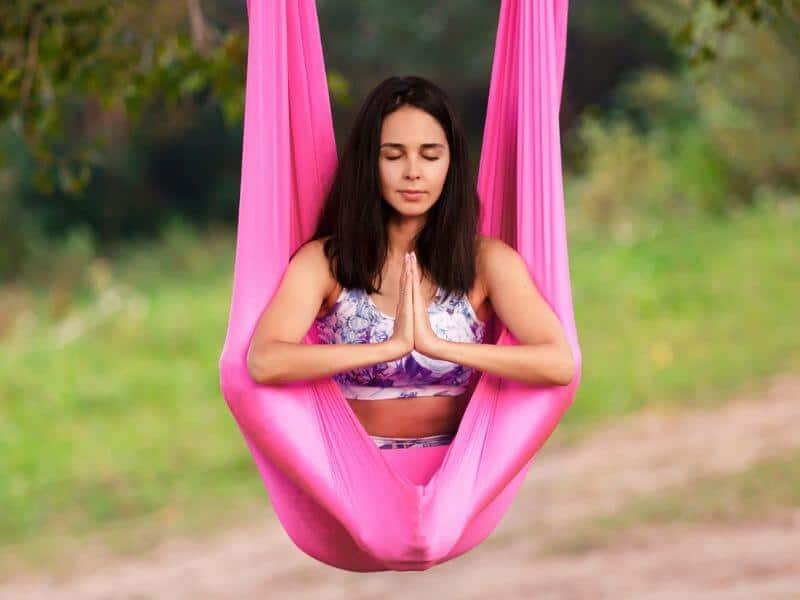 Go and relax with your yoga swing for a while, even if you just sit in the hammock and meditate for a bit.
If you feel up for it, try stretching gently and hold each stretch for a long time, making sure you methodically and systematically stretch both sides of your body! Switch legs, switch arms, etc.
If you don't have an aerial yoga swing at home, you'll be pleased to know that you can get one for under $80 and hang it from a secured door frame bar (similar to a pull-up bar) or from a beam/joist.
If you'd like more information about getting aerial yoga equipment at home, check these out (they all open in a new tab/window)
---
Pin this Post
Use the image below to pin this guide and save it for later reference!
This post contains affiliate links. That means that, at no extra cost to you, we may receive a small commission if you buy a product using one of the links on this page. Read our full disclosure here.
This article is tagged with: