Looking for ideas for aerial yoga gifts? If you have a special aerialist in your life, then an aerial-themed gift could be just what they're hoping for this Christmas! So if you're searching for ideas for the best gifts for aerialists this year, you're in the right place because we've done all the hard work for you!
That's right, we've searched the best aerial yoga stores across the entire web for the hottest gift ideas, and we've organized them all into this handy list for your convenience! So, whether you're looking for a spectacular show-stopping gift, or looking for little novelty trinkets to buy for your aerial yoga friends, there's something on this list for you.
On that note, if you're hunting for aerial yoga themed gifts, then we're here to help you with gift ideas to suit a variety of different budgets and styles.
Get 10% off Aerial Yoga Clothing & Equipment with Uplift Active

Use the discount code POLEFIT10 at the checkout
Aerial Yoga Gifts – Under $25
The following gifts will cost you less than $25! What a steal!
Gym Bag
This is the perfect bag to take to the gym or aerial yoga sessions. It makes for a truly thoughtful gift for the aerialist in your life!
This is a very versatile bag, perfect for day-to-day use, travel, weekends away and for the gym.
---
Gymnast's Water Bottle
An aerialist can't go to the gym or yoga studio with a regular water bottle now, can they?! This delightfully colorful water bottle would make for a great gift this Christmas!
It can be personalized by adding the gift recipient's name – perfect!
---
Aerial Coloring Book
Coloring books for adults were a huge trend a few years back. The idea is that coloring in intricate patterns and drawings was soothing, calming and relaxing. Well, it may not be so trendy these days but it still has all of the positive health benefits that it had a few years ago!
This coloring book has an aerial theme in each drawing, including aerial yoga, making it a perfect gift for someone who loves both art and yoga.
---
Aerial Yoga Necklace
This is a beautiful aerial yoga gift, especially for women. It is a sterling silver necklace and has a clever design, featuring an aerialist using aerial silks.
Currently on sale at $25, get yours now, in time for Christmas!
---
Grip Strength Trainer
This grip strength trainer is a great idea for someone who practises aerial sports, as grip is vital for their progress. Many aerialists struggle with grip at first, as it's hard holding onto silky fabric or shiny metal using your bare hands. Grip strength trainers can help.
This very practical gift idea comes in at under $10!!
---
Aerialist Leggings
Leggings are essential for aerial yoga, they protect skin from friction burns as well as look amazing! There are so many different designs of aerialist leggings, our favorite store for these is Boomkats because they have so many pretty and unique designs.
The leggings pictured above are $50, but they range from $15 – $60 for various pairs of stylish aerialist leggings.
---
Yoga Socks with Grip
Socks are such a classic Christmas gift for everyone, but these socks are great for aerial yoga because they have little rubber grippy pads on them. This means that your feet are less likely to slip on the fabric, and they keep your feet warm at the same time!
Socks like these would look extra stylish during aerial yoga classes
The best thing is… they're under $10!
---
Drop Queen Tee
This cute tee is perfect for an aerial yoga enthusiast!
This super cute tee is available in more colors too!
Get yours now from Uplift Active
---
Aerial Yoga is More than a Hobby, It's a Lifestyle
This cute aerial yoga journal is the perfect Christmas or birthday gift for anyone who loves aerial yoga. Tracking your fitness progress is an excellent way to stay on track, so the recipient will surely be glad of this gift!
---
YOGABODY 'No More Sore' Treatment
This non-greasy pain relief lotion is designed for yogis and aerialists. It can provide effective and soothing pain relief in a matter of minutes with a cooling sensations to the affected area.
Aches are pains are common for aerialists, but this natural formula can really help
---
EverKing Yoga Swing with Handles
This is a budget, high quality, durable, safe product that delivers excellent value for money. With the 12-month warranty from the manufacturer, you can't go wrong with this swing! It's made from superior parachute grade material, unlike many other budget swings.
However, this is a budget swing and it does require you to have existing equipment in place. If you already have hooks or aerial hardware, then this budget swing is a perfect gift option for you. You won't find a parachute-grade material swing for the same price as this!
---
Pin This List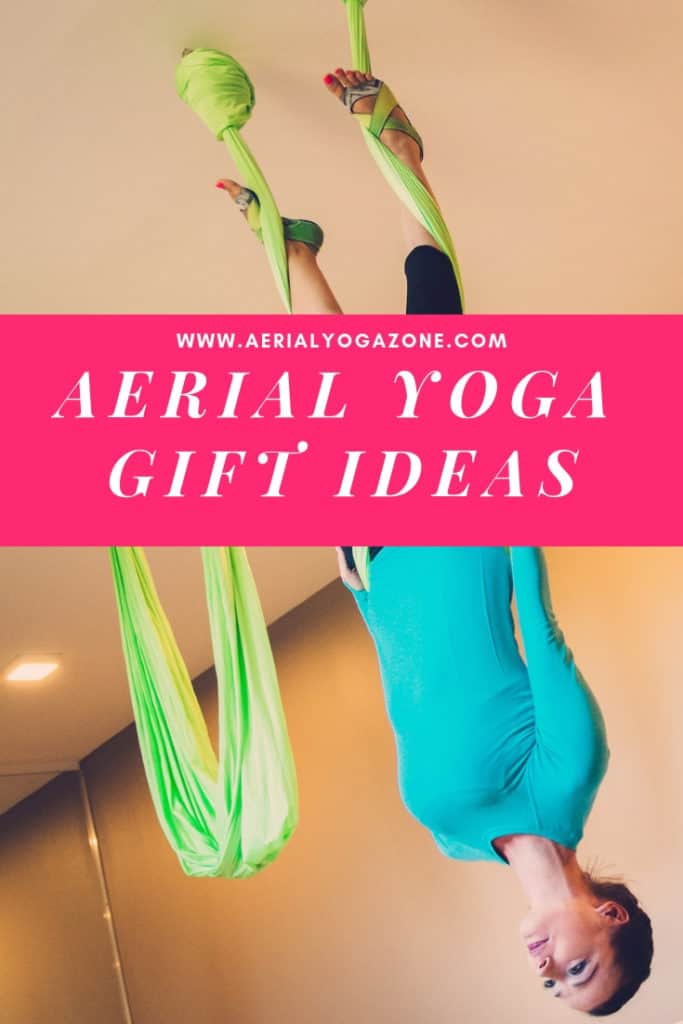 Save this image to Pinterest to save this list for future reference! This article will be kept up-to-date with the latest aerial yoga gift ideas for the special aerialists in your life. We will also update it seasonally with the latest trends and ideas.


This article is tagged with: